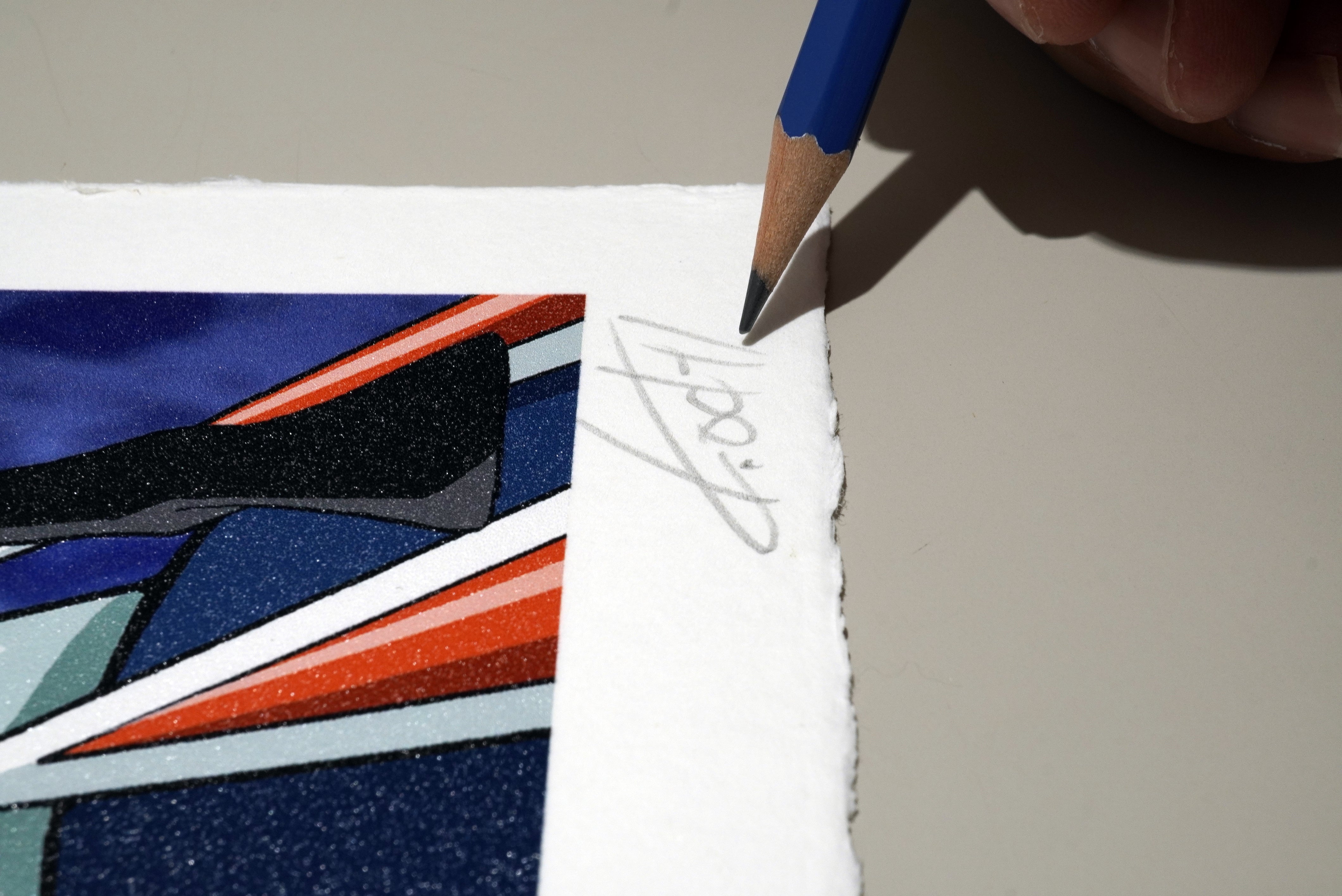 Special Interview with Kazuhiro Ochi

In September 2022, Kazuhiro Ochi's first solo exhibition, commemorating two events – the 50th Anniversary of Mazinger Z and the launch of his new art book, "Super Robots and Heroes ART WORKS" (Genkosha), was held in Tokyo. The exhibit is planned to tour Nagoya in March 2023.
In celebration, we asked Mr. Ochi about his new book, artistry, and creating prints from his work.
On His New Art Book
How did your new book come about?
In June of 2021, I was contacted by Hiroyuki Yuasa of Spice Communications. He was in charge of editing San-ei Publishing's "Nagai Go 70's Anime Daikaibo (Go Nagai's 70's Anime In-Depth)." He wanted to use a few of my Mazinger Z DVD cover artworks in the book. That was nice, but I was on the fence because I also wanted to publish my collection one day and didn't want my work used up before that. As we discussed this, he told me he would also look into publishing my book. I thought he was only being polite, but he actually pitched it to the publisher, Genkosha, and the project was signed by early September.
What is the most crucial factor you want the readers to see? And what was the biggest challenge when developing the book?
Well, I'd like the readers to see the book itself as being key; I was fortunate to be able to draw many heroes for over 20 years, and the illustrations are all compiled in one art book. I was also deeply honored that Go Nagai-sensei chose to write the prologue.
There were lots of challenges. We couldn't meet in person because of COVID; I had to draw many new pieces from scratch or touch up existing ones...
From laying out the content pages to writing comments, I had to do everything.
I didn't have to stretch myself so thin, but I can be a control freak.
It was hard but fun work, and I'm only satisfied when I do everything myself. So yes, I'm a pain.
Wait, you revised existing works too?
Some. Most of the existing works were incorporated as they were, but there were some that I just had to change for the book.
Art books often have all accompanying comments printed on the back pages with something like thumbnails, which is tedious because you have to flip back and forth. However, the Gentosha people suggested that comments are presented next to each work, so I wrote them too.
On Working as an Artist
Please tell us how you became an animator, drawing for work.
I only attended the first term of high school. In the second term after the summer break, I only went when I felt like it.
My conviction of wanting to become an animator, no matter what, was so strong I went to Tokyo often to visit publishers or anime studios, looking for work.
I was only 15 years old.
At first, I wanted to join Tatsunoko Production because I liked "Kagaku Ninjatai Gacchaman (Science Ninja Team Gatchaman)." It was September 1977 when I first arrived in Tokyo, without a single appointment. I looked up Tatsunoko Production in the phone book at a payphone in front of Kokubunji Station and called them up. However, it just happened to be the day that Tatsuo Yoshida (President of Tatsunoko Production) passed away. Of course, nobody at the company had any time for me, I was devastated, and took the last train back to my hometown in Gifu.
At the time, in Gifu you could watch both the newly released "Muteki Chojin Zambot 3 (Super Machine Zambot 3)" and reruns of "Daikumaryu Gaikingu (Sky Devilsaur Dino-Mecha Gaiking)" on TV. In both shows, some episodes were in gekiga (realistic drama) style, conspicuously different from other episodes.
When I checked the closing credits of these episodes, both works were credited to Yoshinori Kanada. The artwork in these episodes was astounding, and I immediately became an ardent fan.
Anyway, I was at a loss, still without any means to become an animator. So I wrote a letter to Tadao Nagahama who directed "Chodenji Machine Voltes V (Super Electromagnetic Machine Voltes V)" at Nippon Sunrise, explaining how I wanted to become an animator. He wrote back, kindly inviting me to come and visit his studio. I took his offer at face value and trekked my way back to Tokyo to visit his studio in Kami-igusa.
During my visit, I was introduced to Akihiro Kanayama, the Chief Animator. When I explained my respect for Yoshinori Kanada san, he told me that the opening sequence animation of Voltes V was actually by Kanada san. He even gave me his studio phone number.
But I didn't have the guts to call him out of the blue…so that's how that ended.

Six months later and still not an animator, I was flipping through the August 1978 edition (sold in stores at the end of June) of the magazine Televi-Land (children's magazine on TV programs). The magazine had a special article on a new show, "Uchu Majin Daikengo (Daikengo, the Guardian of Space)!"
Maybe it was divine intervention, but something clicked.
I immediately called the magazine's editorial department and begged for the phone number of Daikengo's production company; they did, which is unimaginable today. So I called the production company, who told me to come over (for a job interview)... and things moved from there. I got the job and moved to Tokyo in July with only two paper bags full of my clothes.
Interestingly, that production company was formed by people who spun off from Tatsunoko Production, the company I initially wanted to join.
I couldn't afford my own place so I slept in a closet at the studio for the first few months.
Once I got a job and started as a rookie animator, I finally called Yoshinari Kanada-san and got to meet him.
After visiting his studio a couple of times, he asked me if I wanted to join his studio. I did, and joined Kanada-san, leaving the production company after six months.
So I'm not professionally trained and have never been to vocational schools.
Were you always a good artist as a child?
Oh no, I was really average. I liked to draw but was never the best artist in the school or anything like that. It was before Japan's anime-craze, so anime was still only for little kids. But even after graduating from elementary school, I kept surreptitiously buying children's magazines such as Televi Magazine and Bouken Oh, or Chogokin die-cast metal figurines. I was ravenous to learn more about the things I loved and absorbed it like a sponge. I guess that's off paying off now.
So you began to draw professionally after you moved to Tokyo?
That's right. I always thought that if I didn't drop out of high school, I probably would not have been able to become an animator.
Right after I moved to Tokyo, Japan's anime-craze took off. Many people who could draw well suddenly wanted to become animators. Competition became fierce, and vocational school backgrounds became a requirement.
In that sense, my timing was fortunate.
I'm not sure if that was a truly good thing, looking at how things turned out. Just kidding.
I myself wonder about how I managed to continue drawing for 45 years.
I thought you leaped into this intense environment, believing in yourself.
I did, and I loved it and did what I could based only on what I believed was right.
For example, when I worked on "Makyo Densetsu Acrobunch (Acrobunch in Devil-Land)" which Mutsumi Inomata designed characters for, I couldn't draw at all. Or, my first attempt at being the animation director resulted in horrible graphics.
I got to know Inomata san a little after that. We worked together on Kaname Production pieces such as "Sasuga no Sarutobi" or "Pla-resu Sanshiro (Plawres Sanshiro)." Seeing Inomata-san's artwork made me fully appreciate that you had to be able to draw characters.
I hope I've improved at drawing characters since then.
This was also when I grew out of emulating Kanada-san and his Kanada-pose with a cocked head, flexed wrists and opened arms, or the Kanada-jump with knees bent outwards.
How did you begin drawing characters for Go Nagai?
A person from Tokumashoten Intermedia who I got to know when working on "Cosmic Fantasy" in 1990-94 came to me. They had a new digital comic series called Click Manga that you can read on PlayStation, and they asked me to join. I think this was in 1998. I always loved Go Nagai-sensei since I was a child, but we never had the chance to work professionally. So I requested to work on something by him, which became the "Dynamic Robot Taisen" work. Sadly, the company dissolved after releasing two volumes, so the series itself was cancelled.
A few years later, Dynamic Productions approached me to see if I wanted to finish what we had started. That's how Dynamic Heroes began, a monthly online manga (which was still rare back then). The series ran for about three years.
What do you look out for when drawing Go sensei's characters?
If we're being technical, what I draw are not Go-sensei's graphics.
It's hard to explain, but I cherry-pick the animation's best parts and recreate them.
If I only trace past graphics it will look old-fashioned, so I first take it all in and then draw the significant parts. It's not easy.
So that's the secret, because when I see your work, as a fan, I feel like, "THIS is the anime I used to watch!"
If you compare my graphics to the anime, they don't look anything alike. I just make them seem to look similar. After 50 years, people's impressions shift inside their minds. Various factors influence impressions, and every person has a different one. My output is based on my impressions, but I'm careful not to spoil the impressions that viewers from back then have.
What is the most significant difference between animation work and illustrations for packages or covers?
While I started with animations, I'm basically not cut out for an anime job.
That's because I need to do everything myself.
In the past, that working style was allowed in anime, too.
But that's not how anime works are made anymore... and what goes on now is not for me.
That's why I'm more comfortable with my current work such as manga and illustrations, because it gives me total autonomy.
Do clients specify poses or compositions for package or cover artwork?
No, they do not, and I usually ask for a free hand, too. I probably know more about works from the 1970s than others, so I know which essence to capture without being explicitly told.
Are there any works you want to tackle?
I've drawn official illustrations for most of the robot sci-fi animations from the 1970s, but some works are still untouched...
I'd like to finish those too.
On Turning Illustrations into Prints
We asked you to create a new piece of Mazinger Z for the exhibit. What was the biggest challenge in drawing that work?

Striking a good balance in the layout of the characters was very complicated. There were various factors I had to consider, such as not having Kikaiju (Mechanical Beasts) in similar colors next to each other, and so on. 

On rough drafts, many artists do an abbreviated circle with dots in place of a face. I also do that when I'm busy, but I often suffer later. That's why I believe it's better to draw figures out to a certain degree at the draft stage, even if it's tedious.
In making prints of your work, you've revised your past drawings. Why is that?
Developing prints is an occasion, so I revised many characters, though not all of them.
This series was originally for the cover of a comicalization by Gosaku Ohta that was published in 2005 in Europe.In this "Mazinger, My Machine" piece, I re-drew the whole thing, including Mazinger Z, Koji Kabuto, the Hover Pilder, and the overall layout. 
For this "As Long As There Is Love..." piece, I totally revised Sayaka Yumi.
Sayaka's angle and expression are new, as well as the overall layout or balance with other characters, and the backdrop.
In this "Go! A Hot-Blooded Man of the Universe" piece, I revised Koji.
Since "Fight! The King of the Universe" was made into a postage stamp in France, I didn't want to drastically change it. However, I did revise Duke's face to resolve resolution issues. The original graphic had the Emperor of Darkness who appeared in the manga version, but since he wasn't a part of the Grendizer story, I switched it to Great King Vega.
I hear that Grendizer is more popular in France than Mazinger Z. Why do you think that's the case?
That may be due to the order of the TV broadcast. Grendizer was aired first and got terrific ratings. Also, Grendizer has an underlying narrative with a European royalty feel, and it's also popular in the Middle East.So they aired Mazinger Z after Grendizer in Europe, which apparently confused the viewers regarding plot timelines. 
Please tell us about the Hikaruon drawing.
 This was an ad poster from a cel drawn 36 years ago.
I can't draw like this anymore. It's also different from the main film too.
Animators try to adhere to character descriptions, but when you're the Character Designer, the designs keep evolving in your head. So what often happens is illustrations by the Character Designer ends up being the least similar to the character in the final work.
Thank you for sharing your invaluable experience with us!