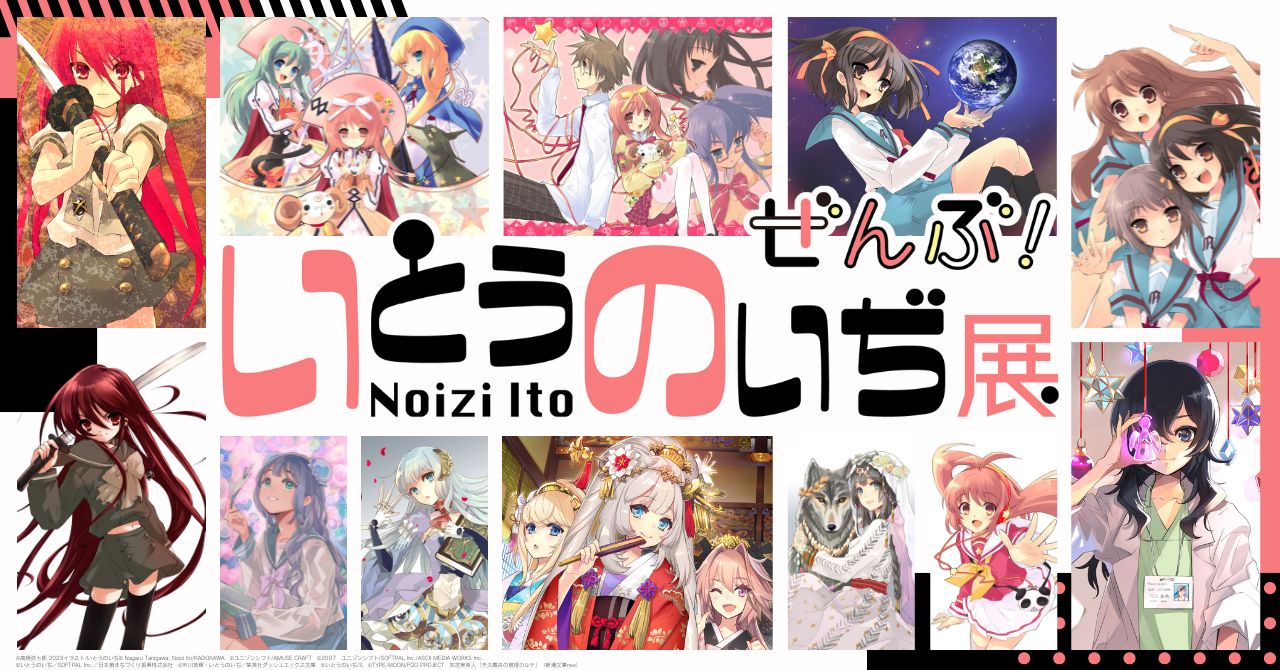 NOIZI ITO ART EXHIBITION: ZENBU! in HYOGO and TOKYO
We are pleased to announce the largest exhibition ever to be held in Hyogo and Tokyo, featuring over 200 illustrations by Nozi Ito.
The exhibition will feature color illustrations and original works from "Shakugan no Shana", which has sold over 8.5 million copies and will celebrate its 20th anniversary in 2023, the popular Haruhi Suzumiya series of light novels, which has sold over 20 million copies worldwide, "Nanatsuiro Drops", the first game she has created to be adapted into an anime, "Ansatsu Kouhosei: Aoki Bara no Everett", and "Ameku Takao no Suiri Karte".

To commemorate the exhibition, her new artworks will also be presented and exhibited.
The exhibition will be held in Kakogawa, her birthplace, and Tokyo, allowing visitors to fully appreciate her long history of creativity.
HYOGO
Period: July 15 - Sep 3, 2023
Venue : Kakogawa Sogo Bunka Center, Hyogo

TOKYO
Period: Nov 14 - 26, 2023
Venue: Design Festa Gallery, Harajuku
(Address: 3-20-18, Jingumae, Shibuya, Tokyo)
-Comment from Noizi ito-
Hello, everyone!
I am pleased to have the opportunity to exhibit a large volume of illustrations that I have created.
The exhibition will feature a wide range of works from when I started working as a professional to recent years.
Hope you will enjoy it.
In commemoration of the exhibition, new products will be released!
Stay tuned for more updates 😘🧡😘