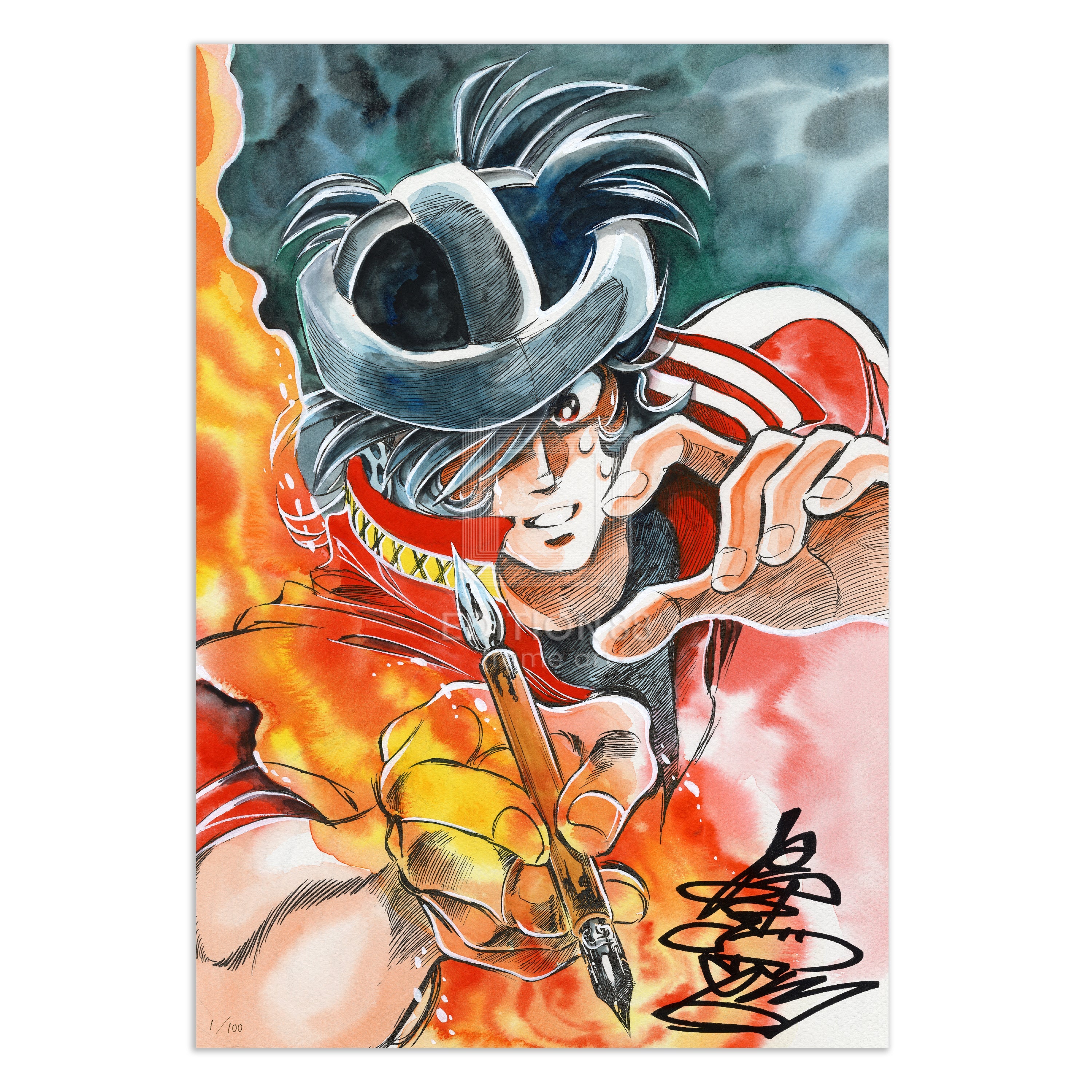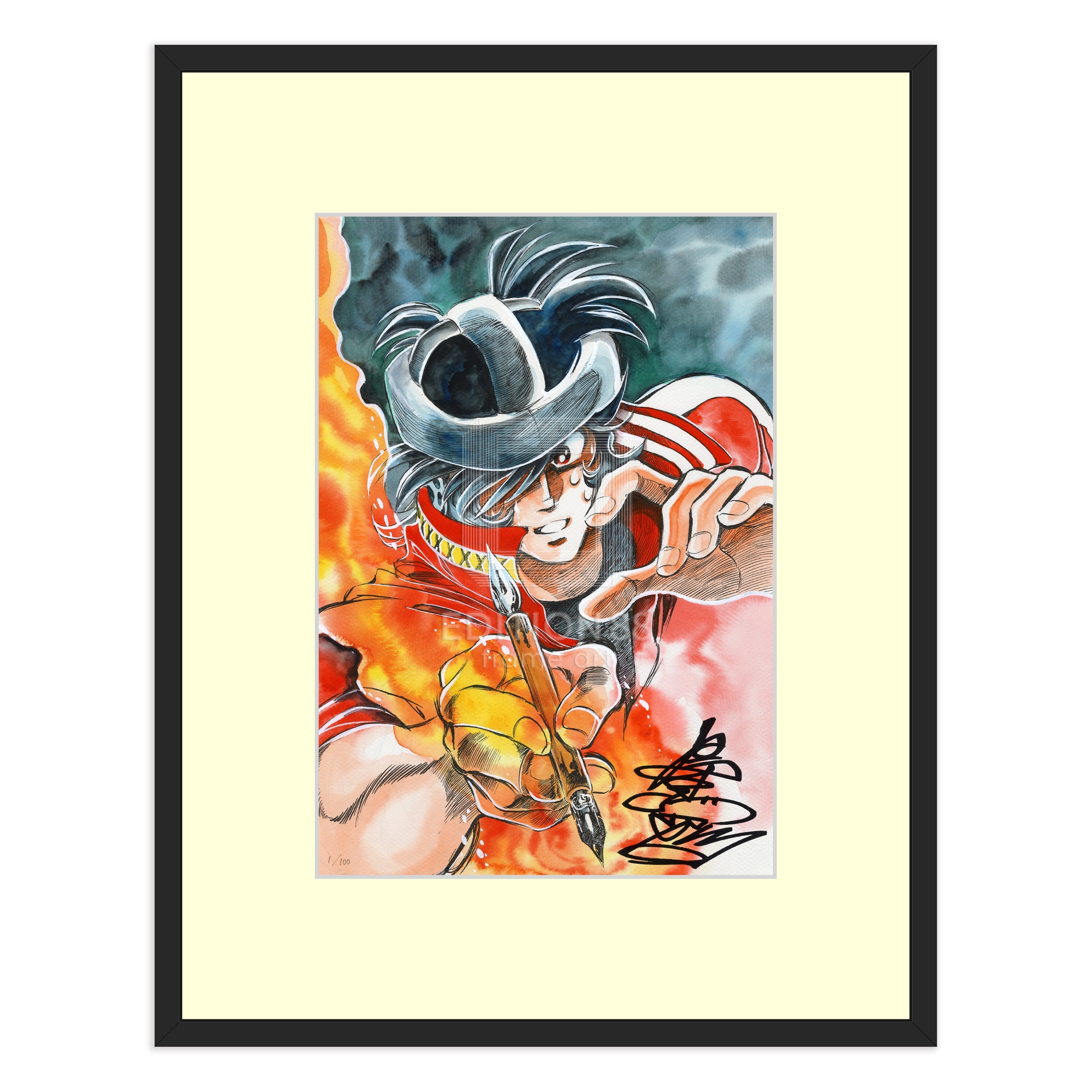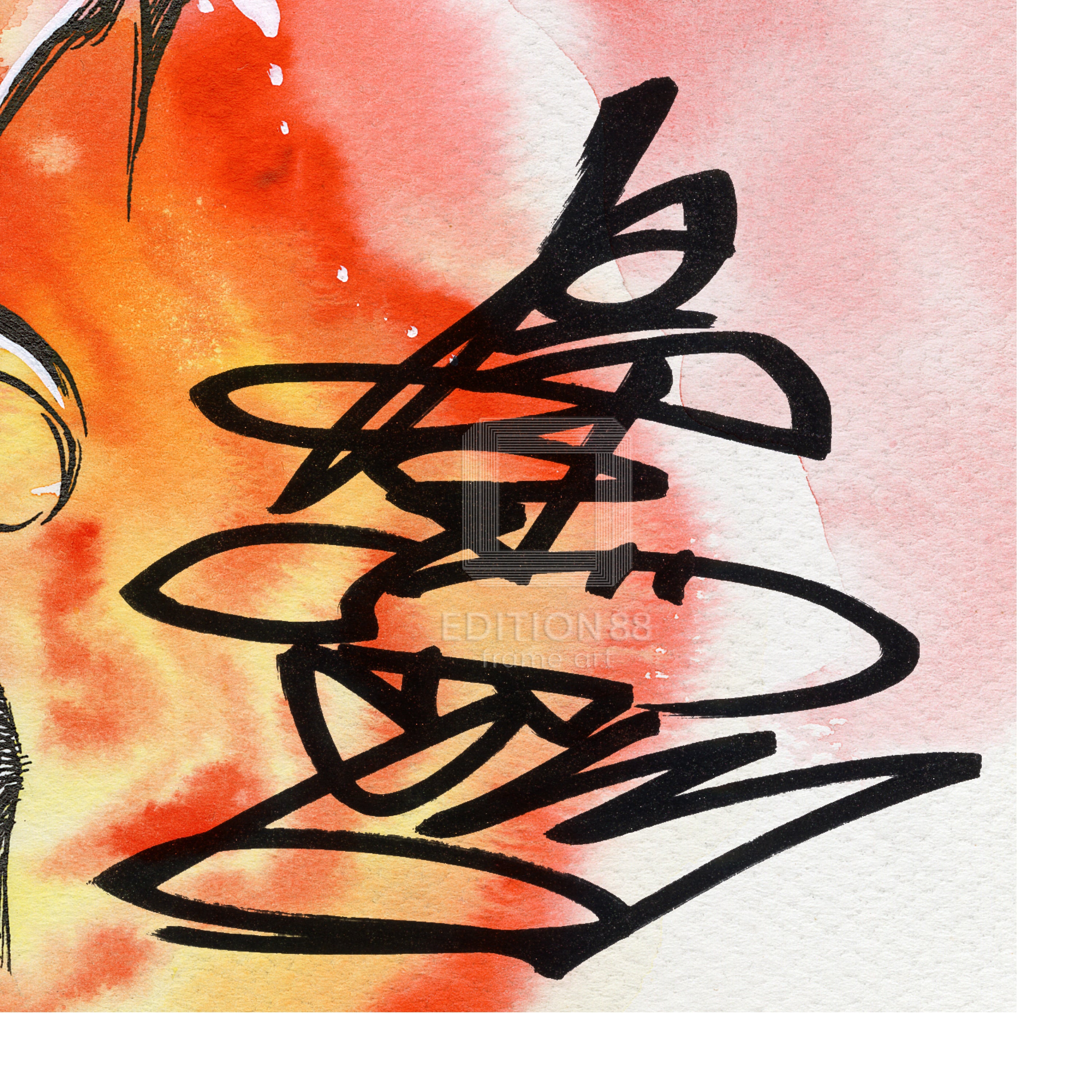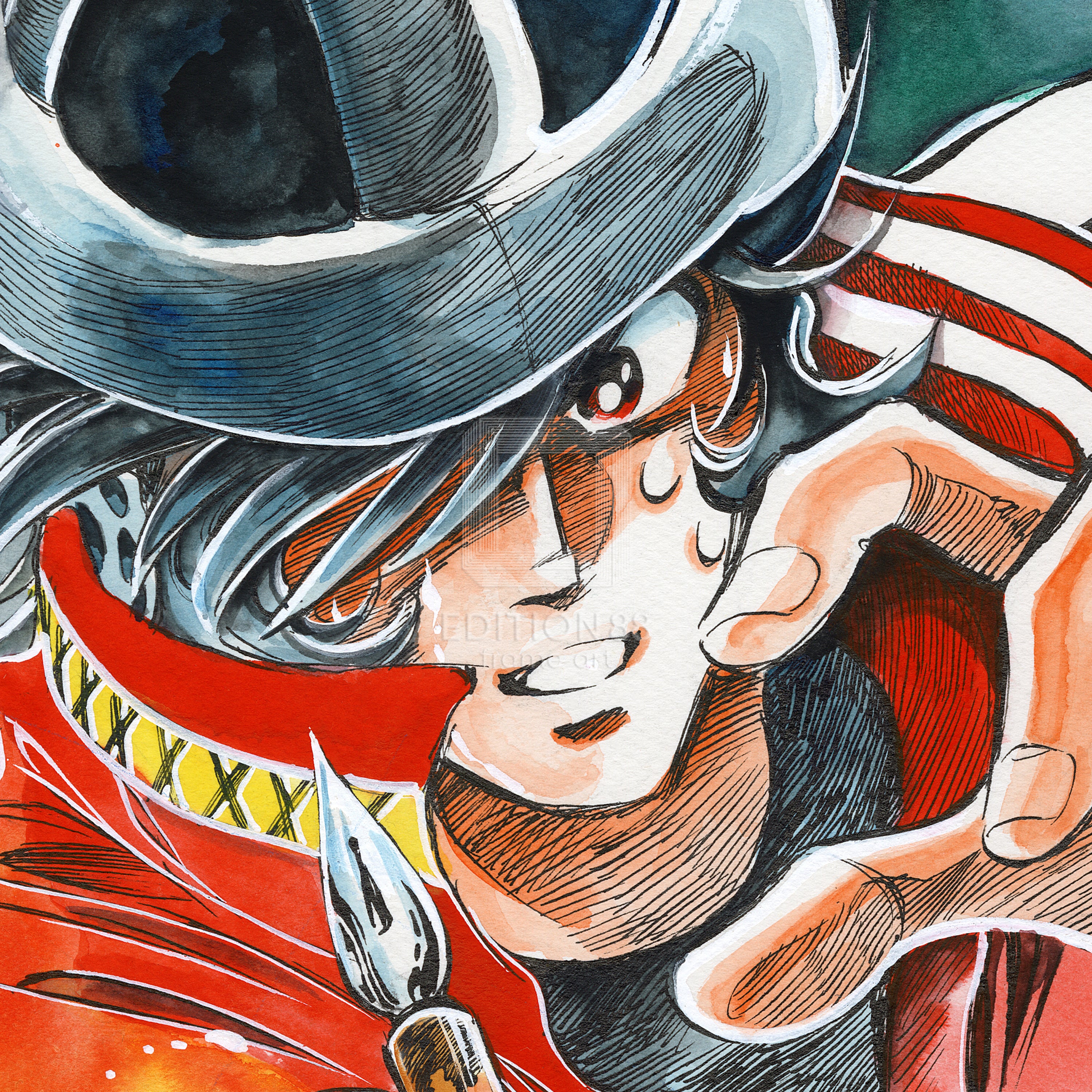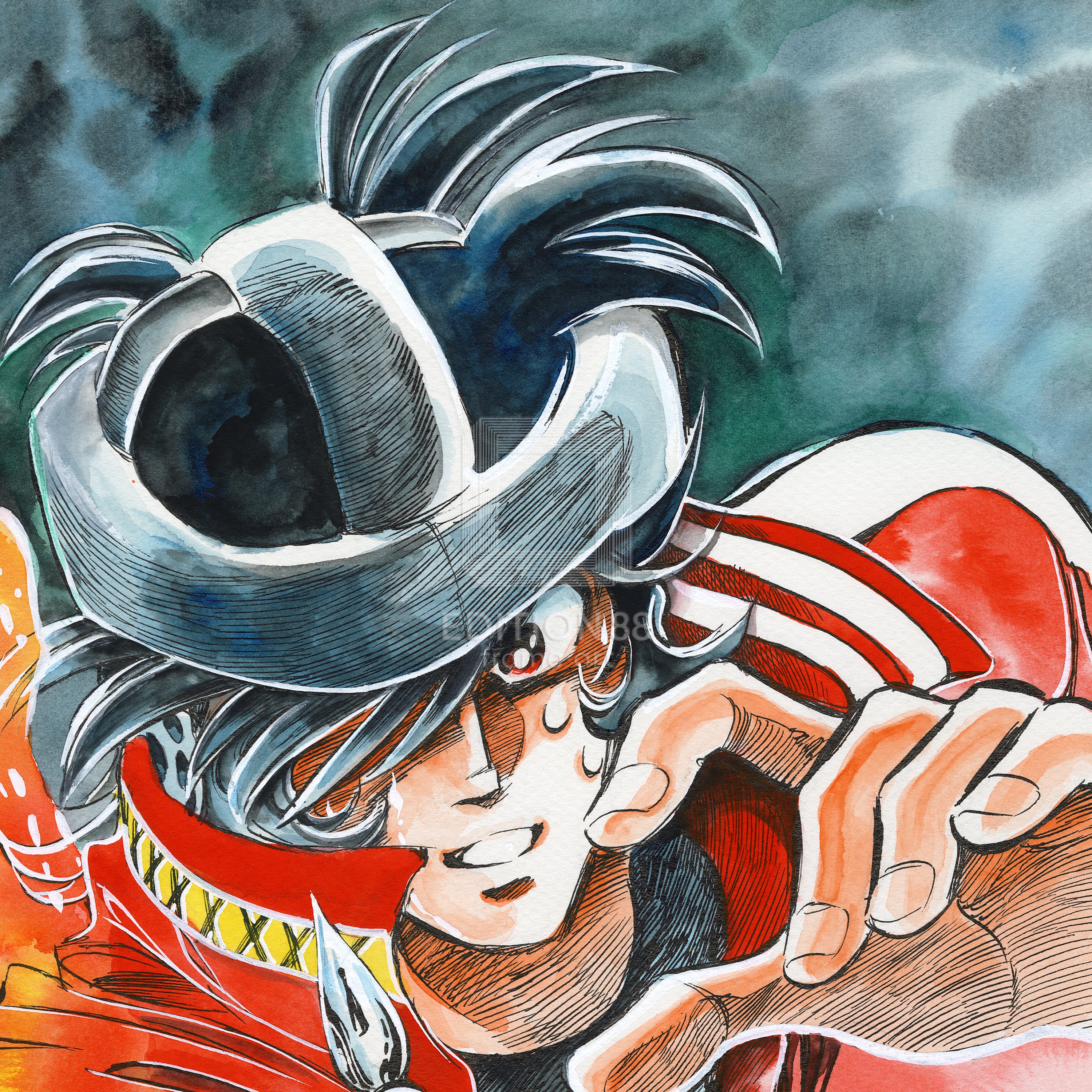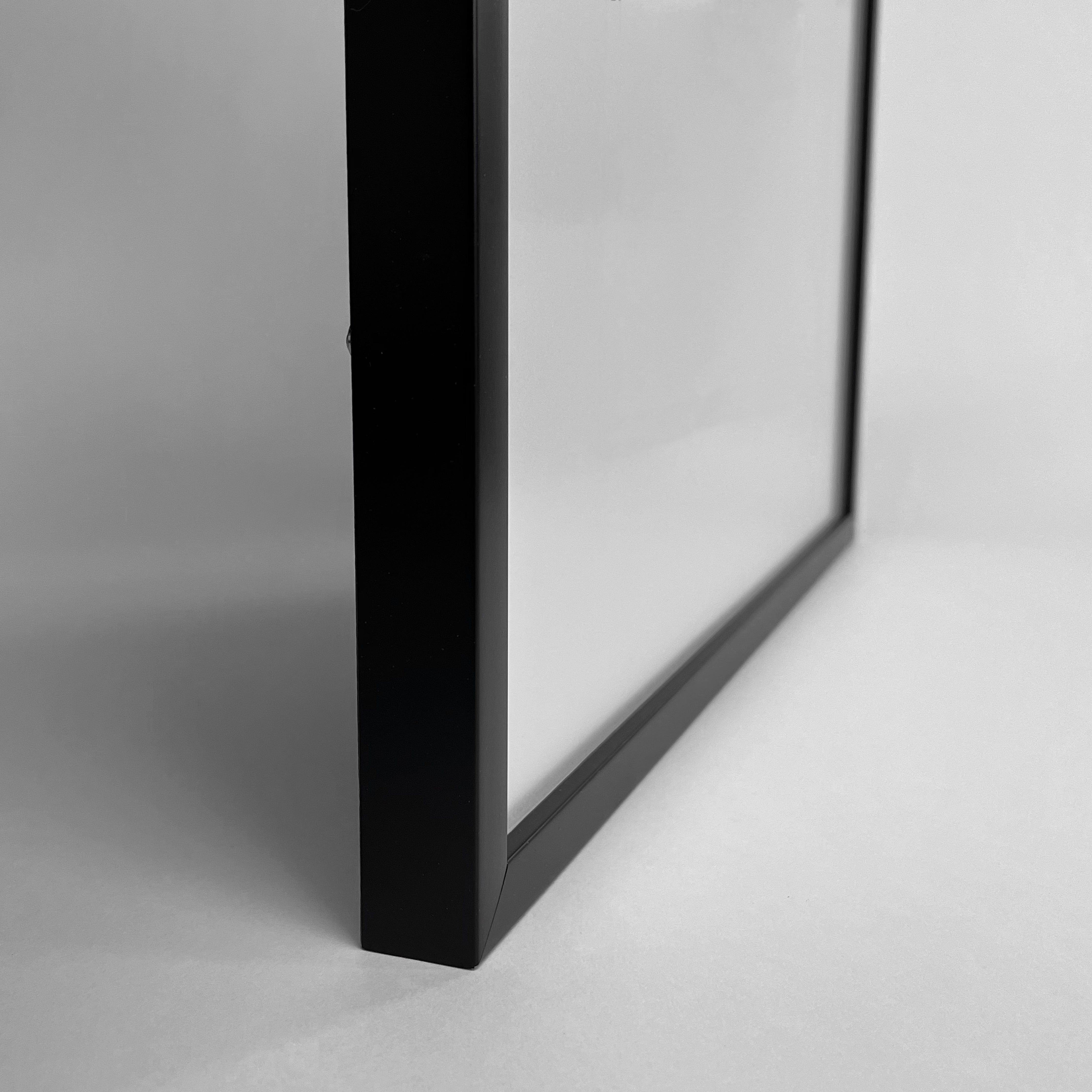 Moeyo Pen, 88Graph #1 / Kazuhiko Shimamoto
---
This 88Graph is from the opening illustration for Moeyo Pen in "Manga Artist Book vol.3: Kazuhiko Shimamoto".
On the Original, from Kazuhiko Shimamoto
The first comic did not have a cover picture (color illustration), and I had to draw one color illustration later. I didn't expect the comic to be this good, so I put a lot of effort into it.
The illustration turned out very well, with a three-dimensional feel, and it became one of my favorites.
On the 88Graph, from EDITION88
In addition to the red and yellow, the subdued blue-green tones give depth to the entire image, and the character's pose is expressed in a very three-dimensional way in this illustration.
In the production of 88Graph, we were careful to replicate the color tones so as not to detract from the three-dimensionality of the illustration. We sprayed the entire image by hand with a thin coat of pearlescent paint and partially hand-sprinkled with white ink.

●Hand-signed by Kazuhiko Shimamoto
●Limited edition of 200(International edition 100 , Regular edition 100 ) 
●Medium: 88 Graph (Giclée on fine art paper, hand-sprayed, white ink)
●Black Frame (Wood, UV Resistant Acrylic) / Unframed 
●Size 
 ▸Image size 353 x 246mm / 13.90 x 9.69inch 
 ▸Sheet size 422 x 300mm / 16.61 x 11.81inch 
 ▸Frame size 525 x 410 x 20mm / 20.67 x 16.14 x 0.79inch
●Officially licensed by SHOGAKUKAN Inc.
●Manufactured by EDITION88
●Certificate of Authenticity

©Kazuhiko Simamoto 2023

Please choose 'Frame' or 'Unframed'.
SHIPPING DATE:Within 2 months after receiving your order
Important Notice
●Since this product is made to order, please allow a certain amount of time for shipping. 
●Our products are shipped from Japan and may be subject to customs duties, import taxes, customs fees, etc. in the destination country. EDITION88 DOES NOT collect those fees directly and therefore those are not included in your total amount due.  Please read our policies before placing your order.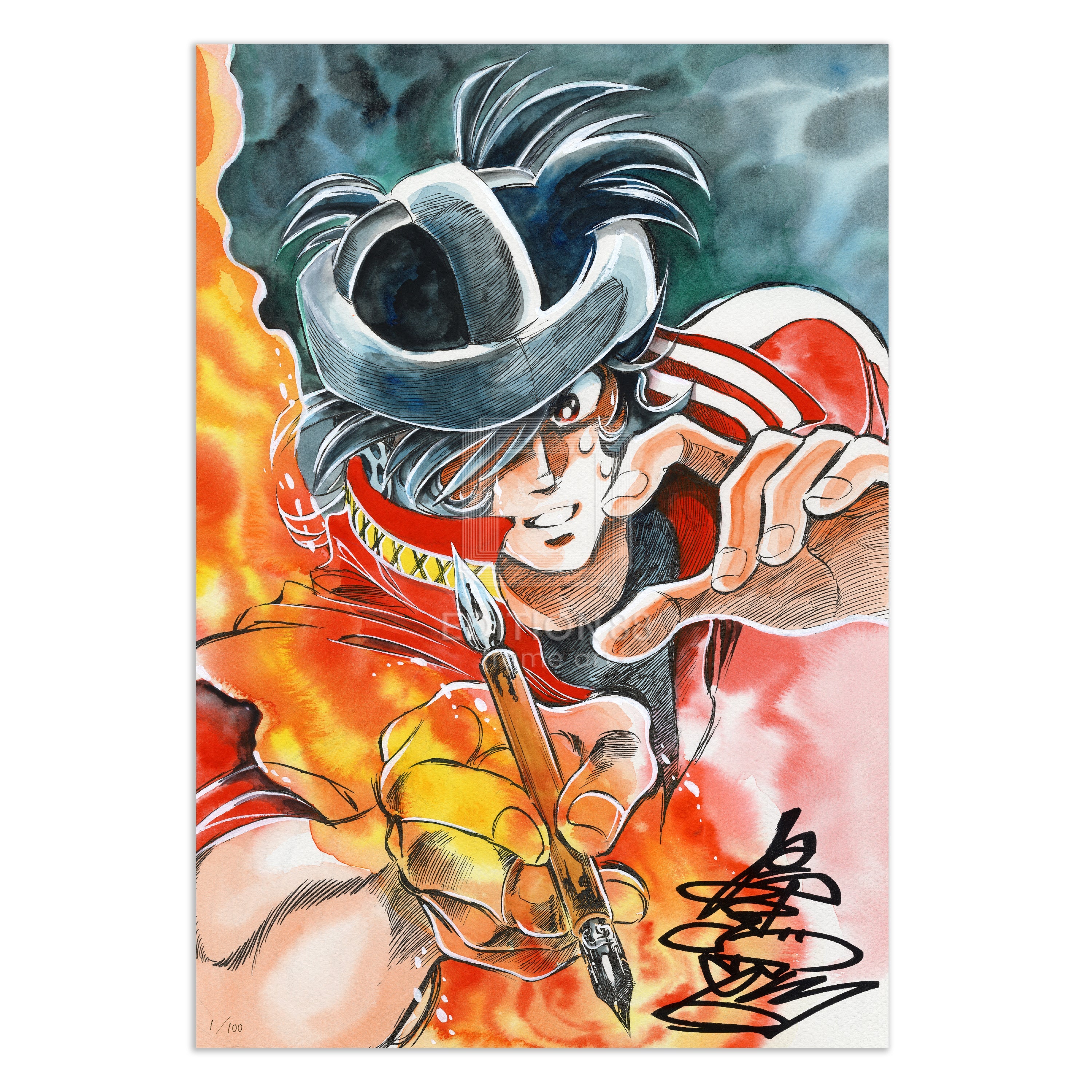 Moeyo Pen, 88Graph #1 / Kazuhiko Shimamoto
Sale price

$230.00 USD
Regular price
Choose options