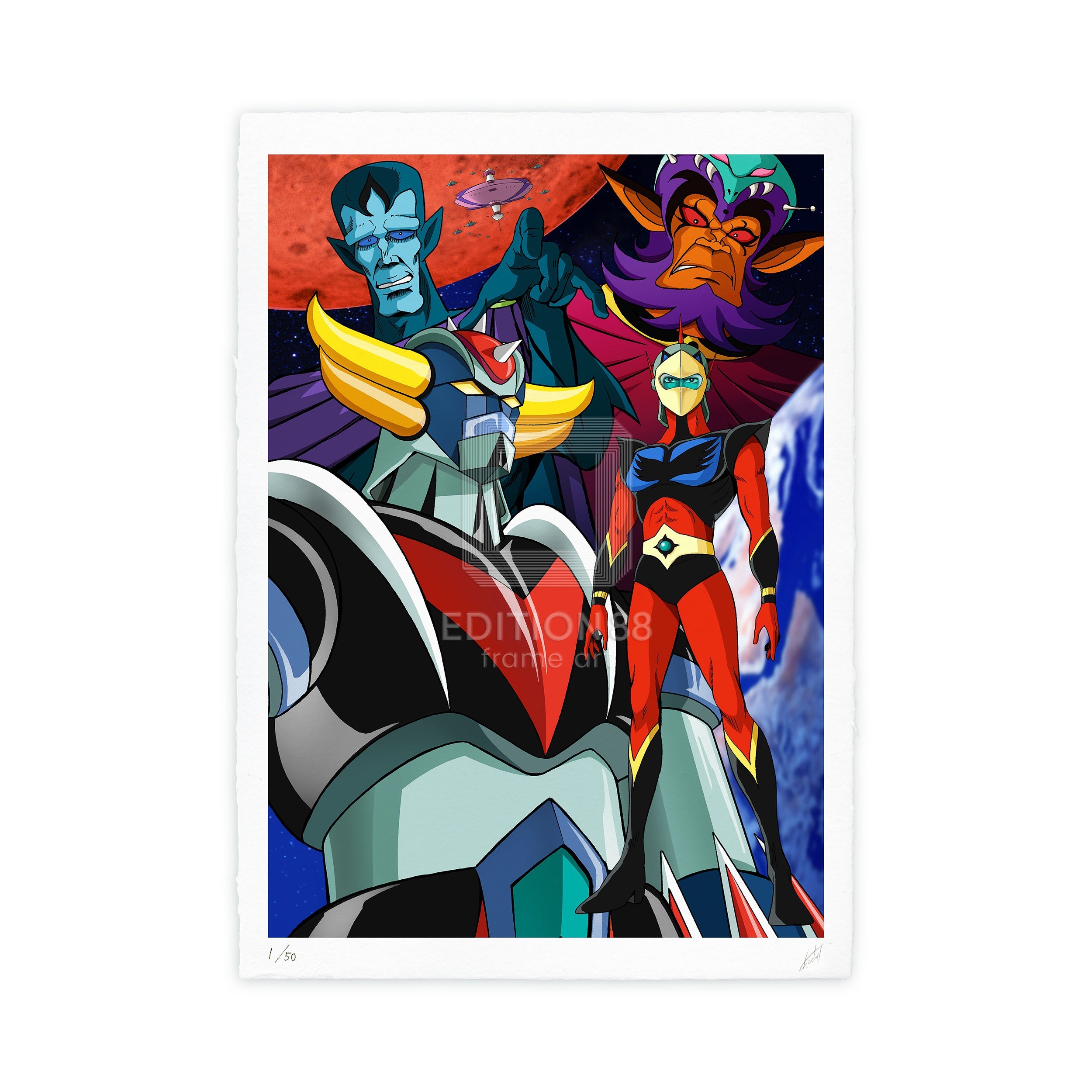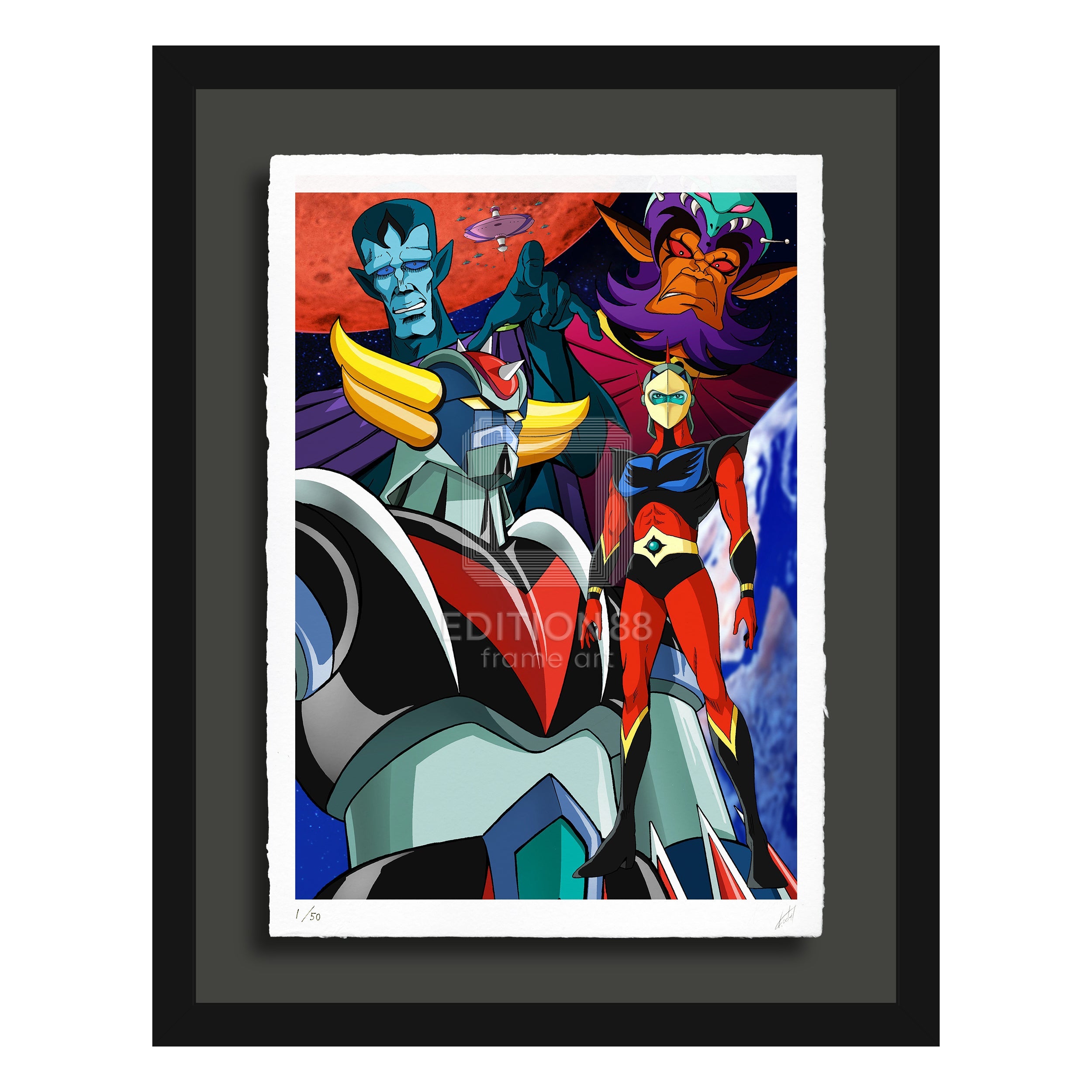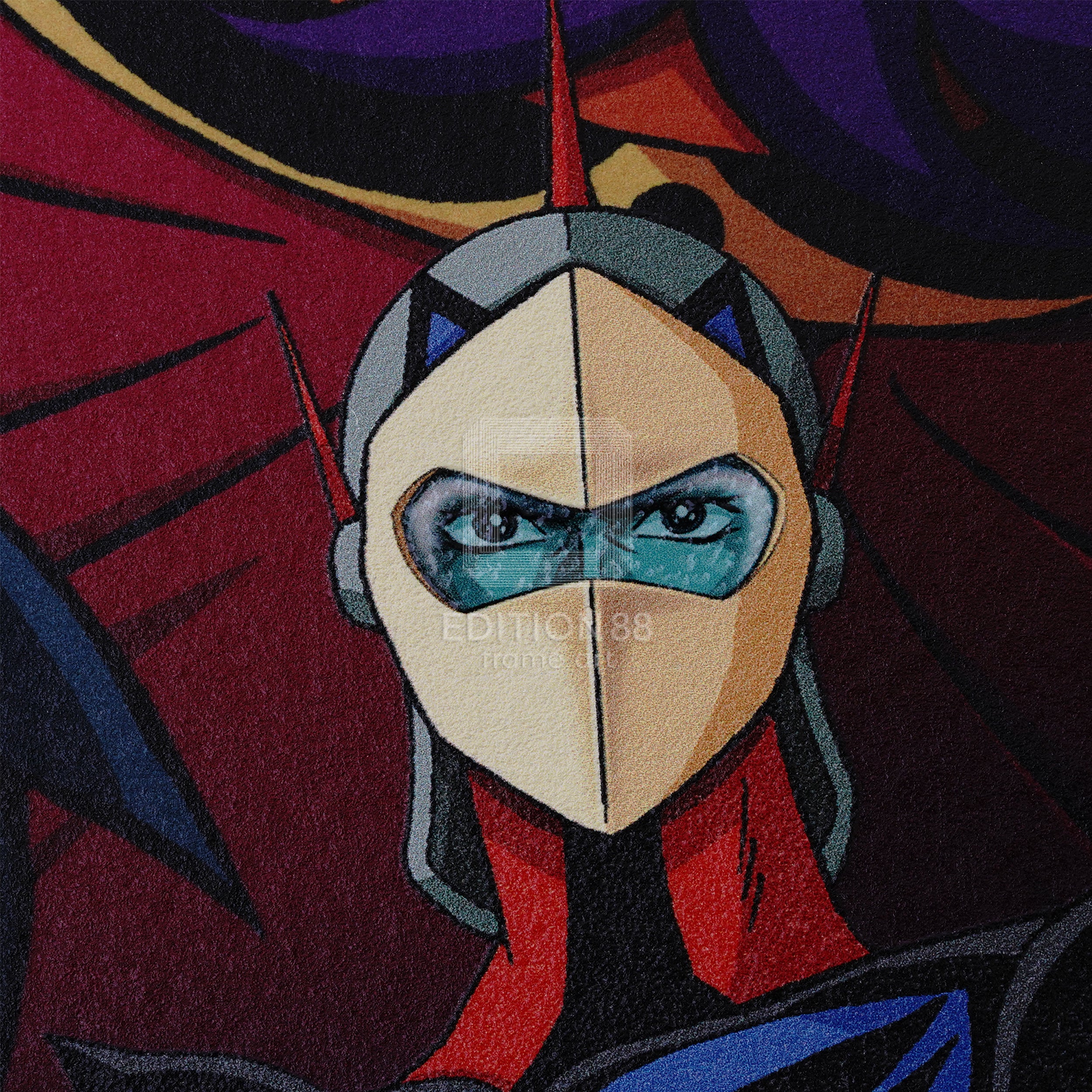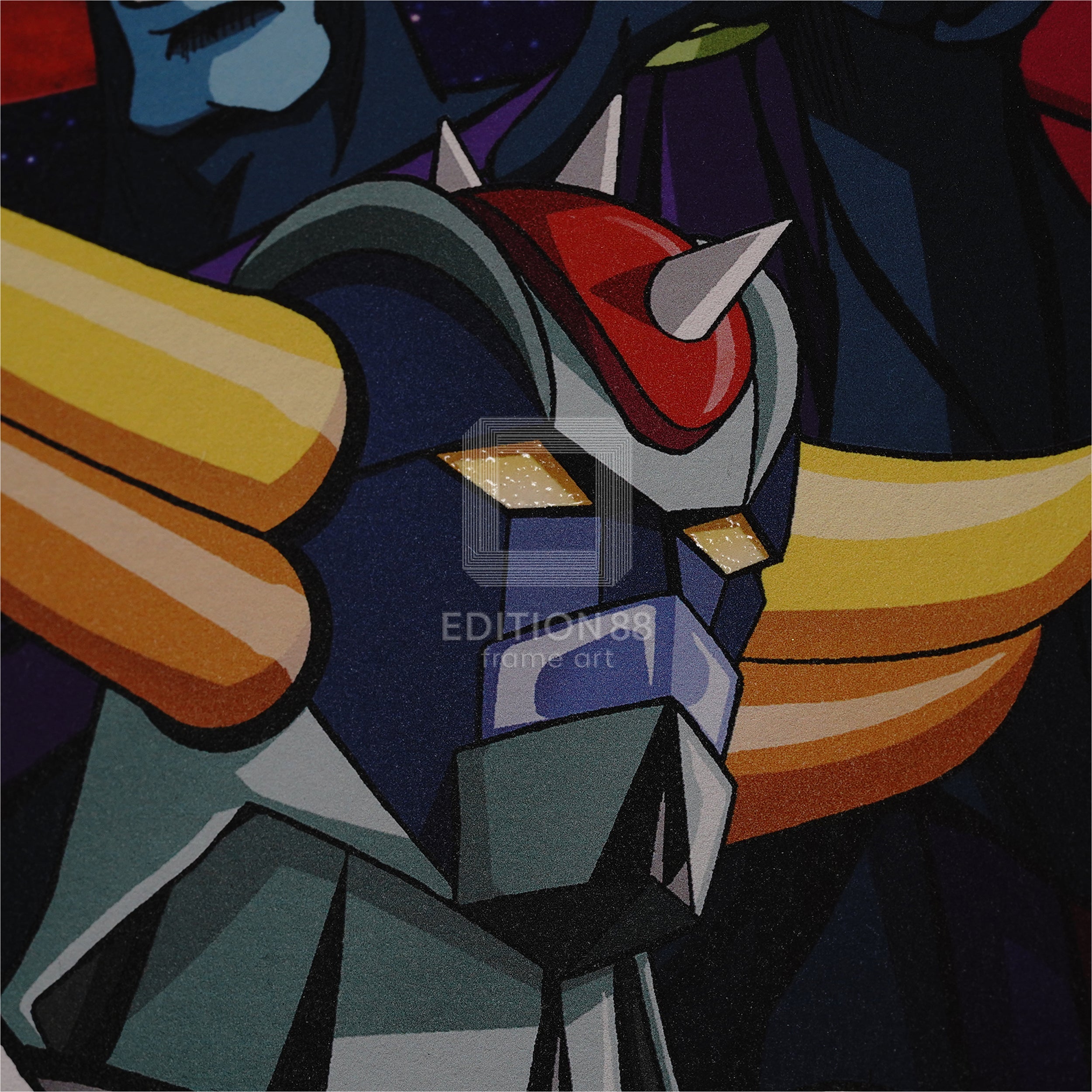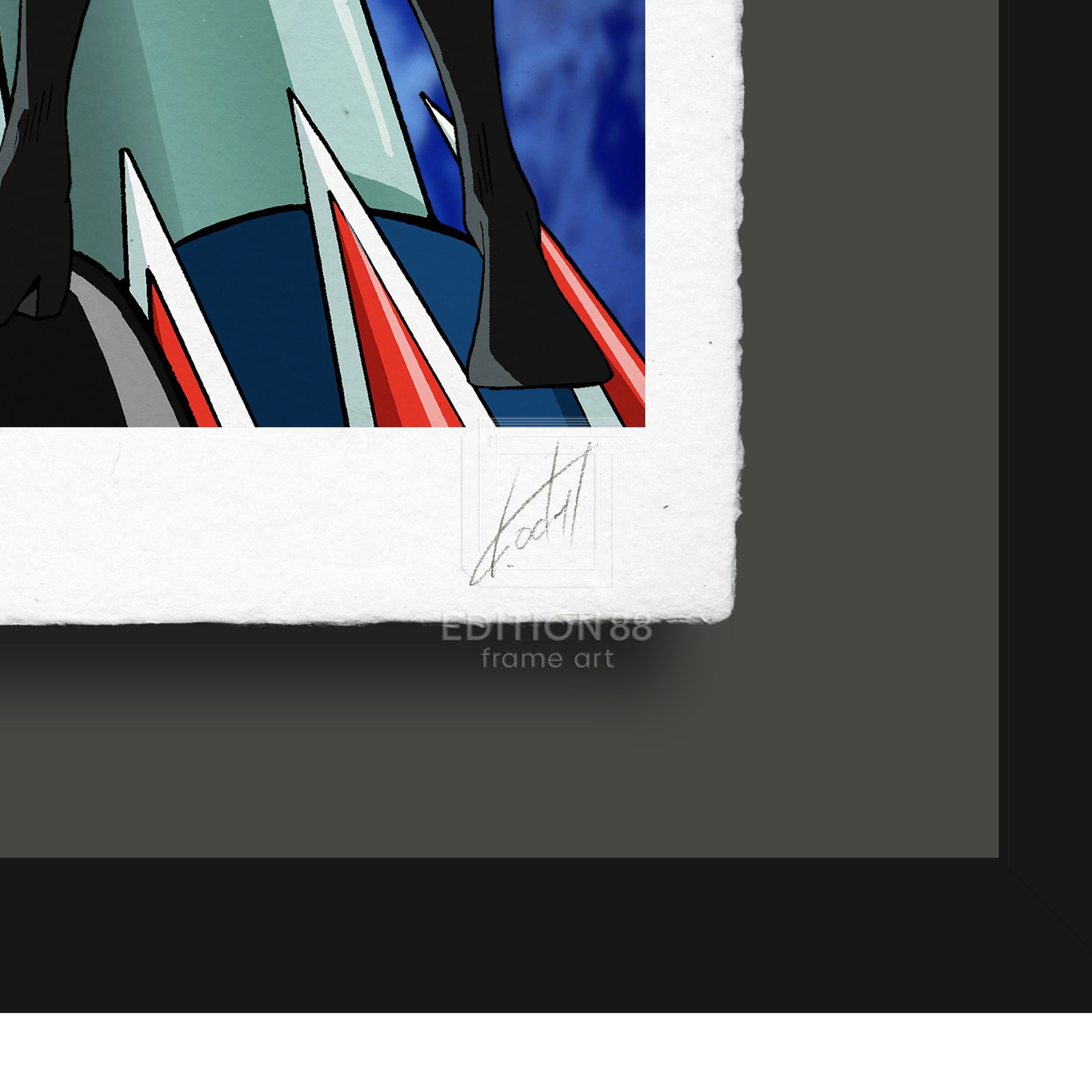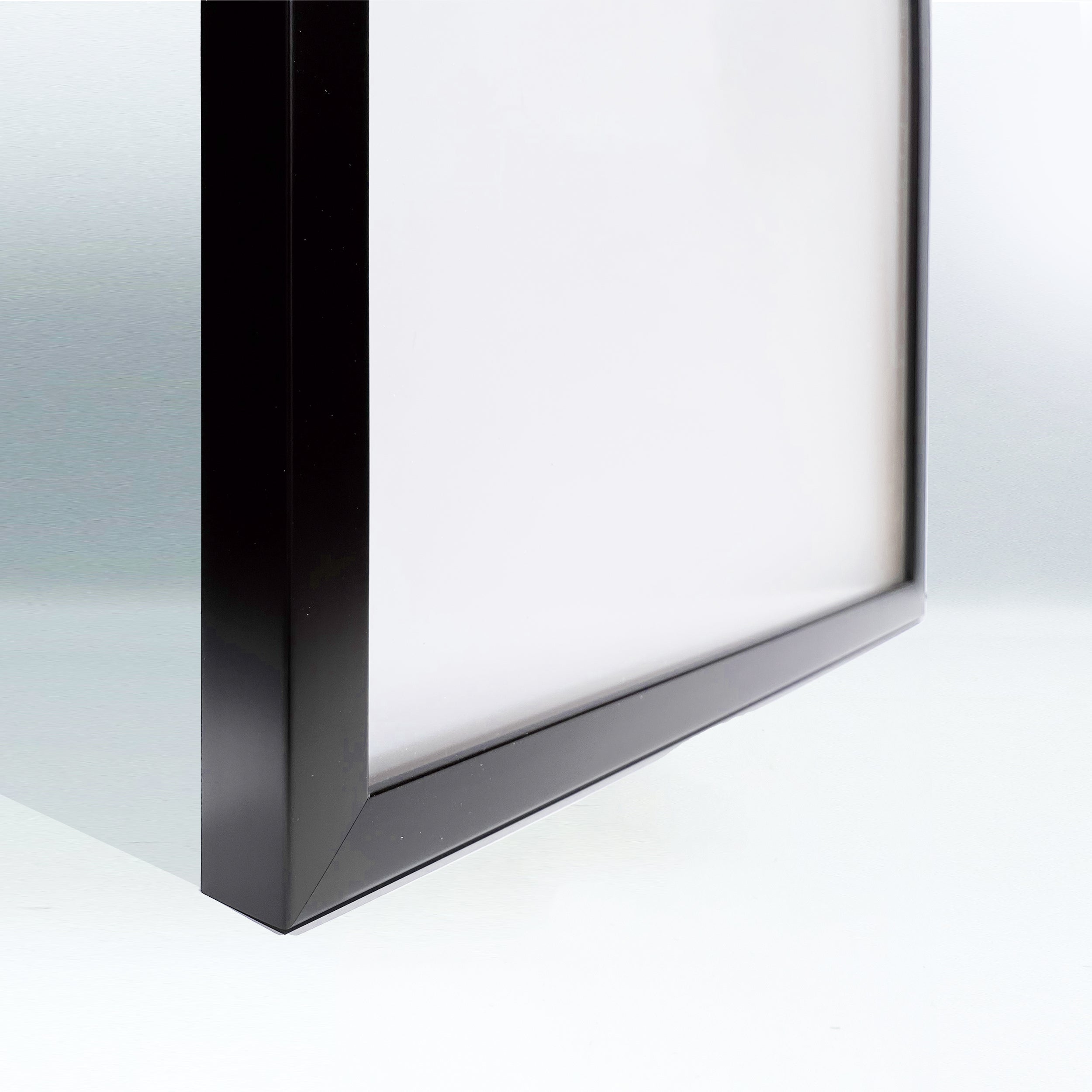 UFO Robot Grendizer (Goldorak/Goldrake), 88Graph 'Fight! The King of the Universe (Washi ver.)' / Kazuhiro Ochi
---
This is the art print of " UFO Robot Grendizer " signed by Kazuhiro Ochi in a limited edition.
Comments from Kazuhiro Ochi
I drew the cover for the Italian edition of a comic that used to be serialized in Adventure King by Gosaku Ōta. The illustration was also adopted for the 2021 France stamp. For the art print, based on the illustration, I removed the Great Mazinger's enemy, the Emperor of Darkness, who was drawn in the background to match the story of the comic book version, and replaced him with King Vega. I also made some detailed corrections to Grendizer and Duke Freed.
See his profile
 
On the Art Prints, from EDITION88
Initially, by printing white ink on the main character areas to create a base, we were able to create the effect of the printed surface appearing slightly raised and give depth to the art print.

In addition, by applying a glossy sheen to the eyes of Grendizer and the shield on a helmet, there is an effect to glow for a moment depending on the angle from which they are viewed, successfully expressing the impact of the artwork.
 
These art prints are made on handmade washi paper made from bamboo and hardwood.
Washi is a traditional Japanese paper and the washi we used is particularly produced for EDITION88 in cooperation with a washi studio in Tokushima. It is characterized by the soft texture unique to handmade washi, and when ink is applied to it, it looks three-dimensional. We would be very happy if you could see the product in person.
 
This washi is designed with hand-torn edges, that is why we chose float framing so that this can be seen.
 
●Hand-signed by Kazuhiro Ochi
●Limited edition of 50 
●Bamboo-based japanese Paper (washi) 
●Medium: 88 Graph (UV on fine art paper)
●Black Frame (Wood, UV Resistant Acrylic) / Unframed
●Size
 ▸Image size 270 x 380mm / 10.63 x 14.96inch
 ▸Sheet size 425 x 298mm / 16.73 x 11.73inch
 ▸Frame size 524 x 409 x 31mm / 20.62 x 16.10 x 1.22inch
●Officially licensed by TOEI ANIMATION Co., Ltd.
●Manufactured by EDITION88
●Certificate of Authenticity

©Go Nagai/Dynamic Planning Illustration by K.Ochi
Please choose 'Frame' or 'Unframed'.
Shipping date: Within 2 months after receiving your order
Important Notice
●Since this product is made to order, please allow a certain amount of time for shipping. 
●Our products are shipped from Japan and may be subject to customs duties, import taxes, customs fees, etc. in the destination country. EDITION88 DOES NOT collect those fees directly and therefore those are not included in your total amount due.  Please read our policies before placing your order.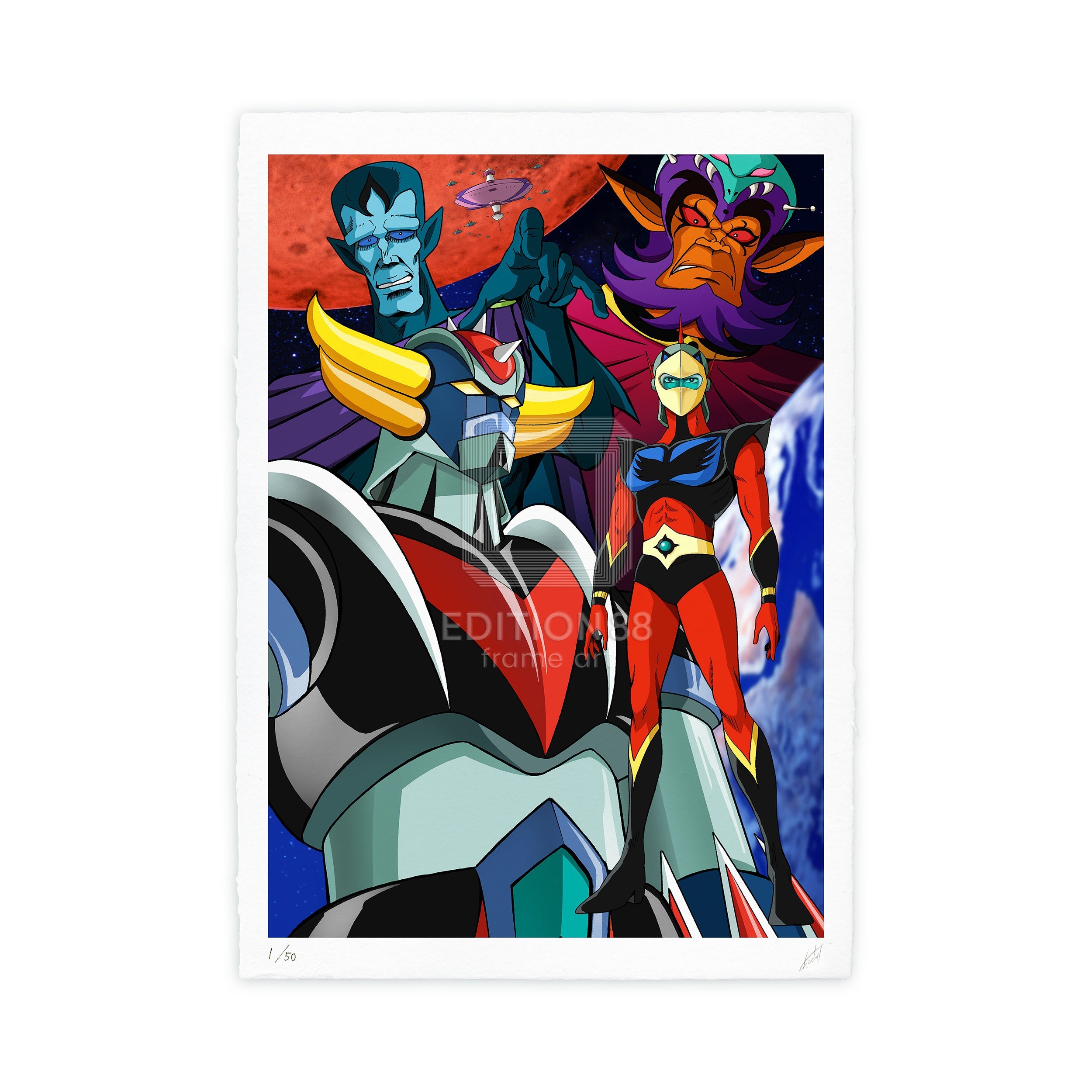 UFO Robot Grendizer (Goldorak/Goldrake), 88Graph 'Fight! The King of the Universe (Washi ver.)' / Kazuhiro Ochi
Sale price

$253.00 USD
Regular price
Choose options