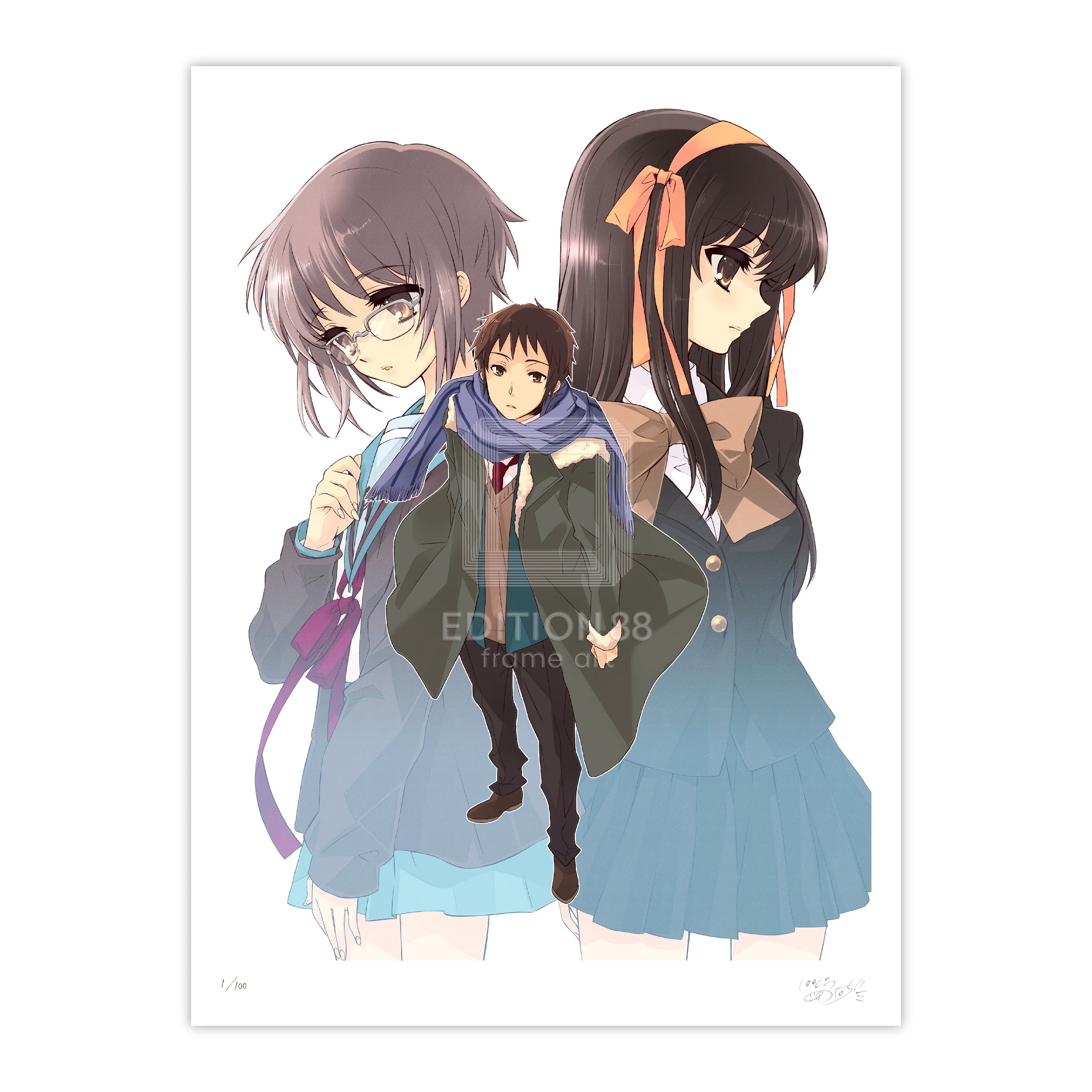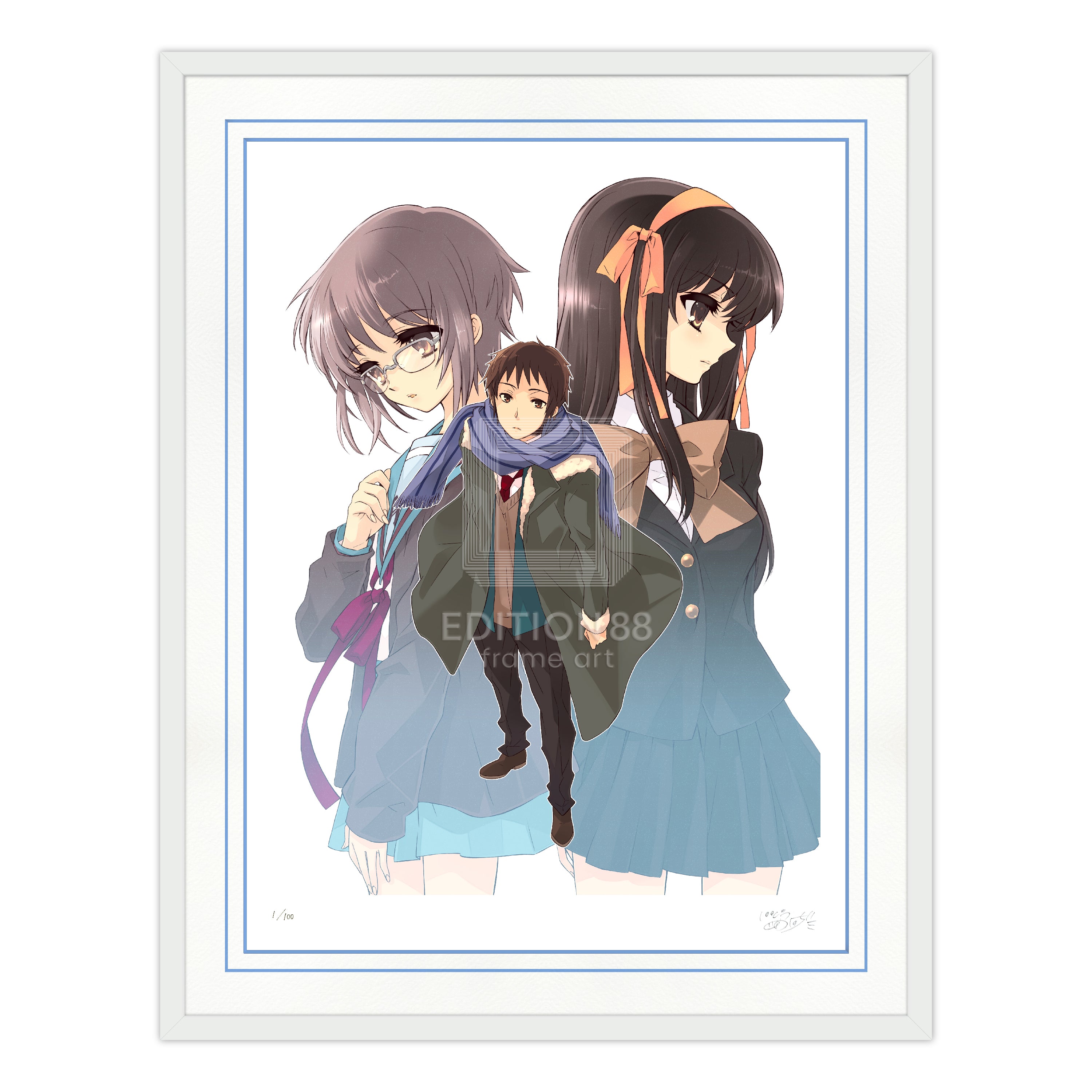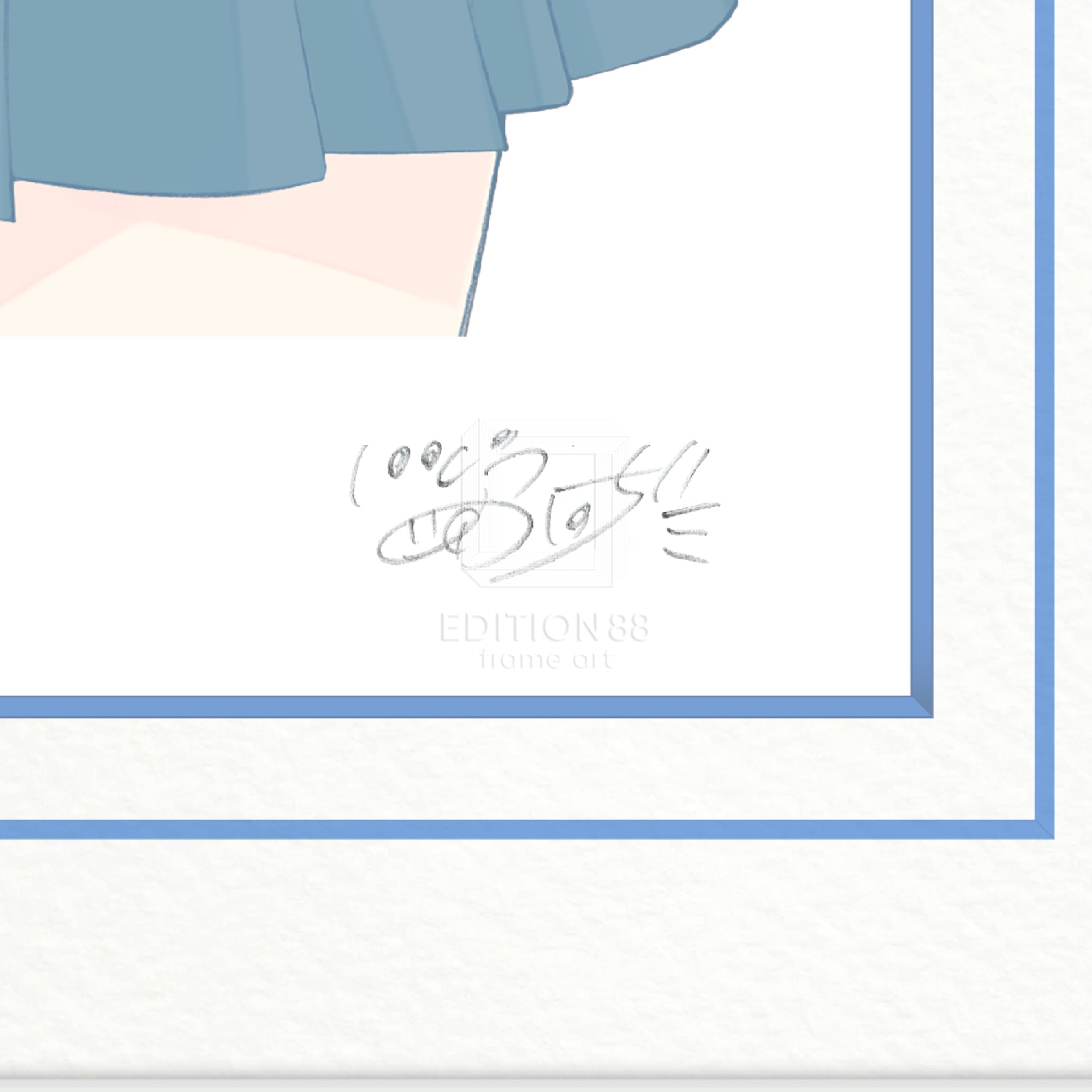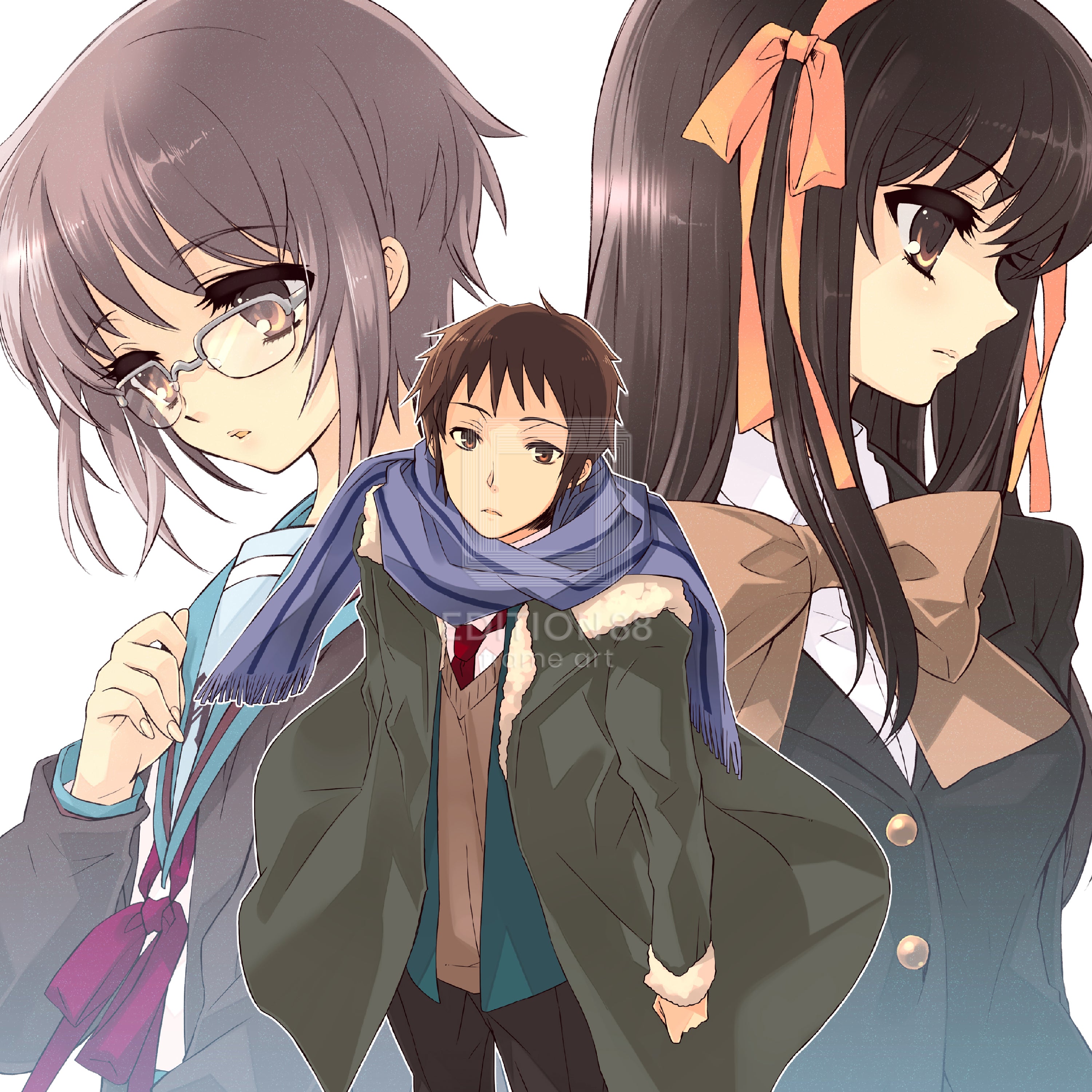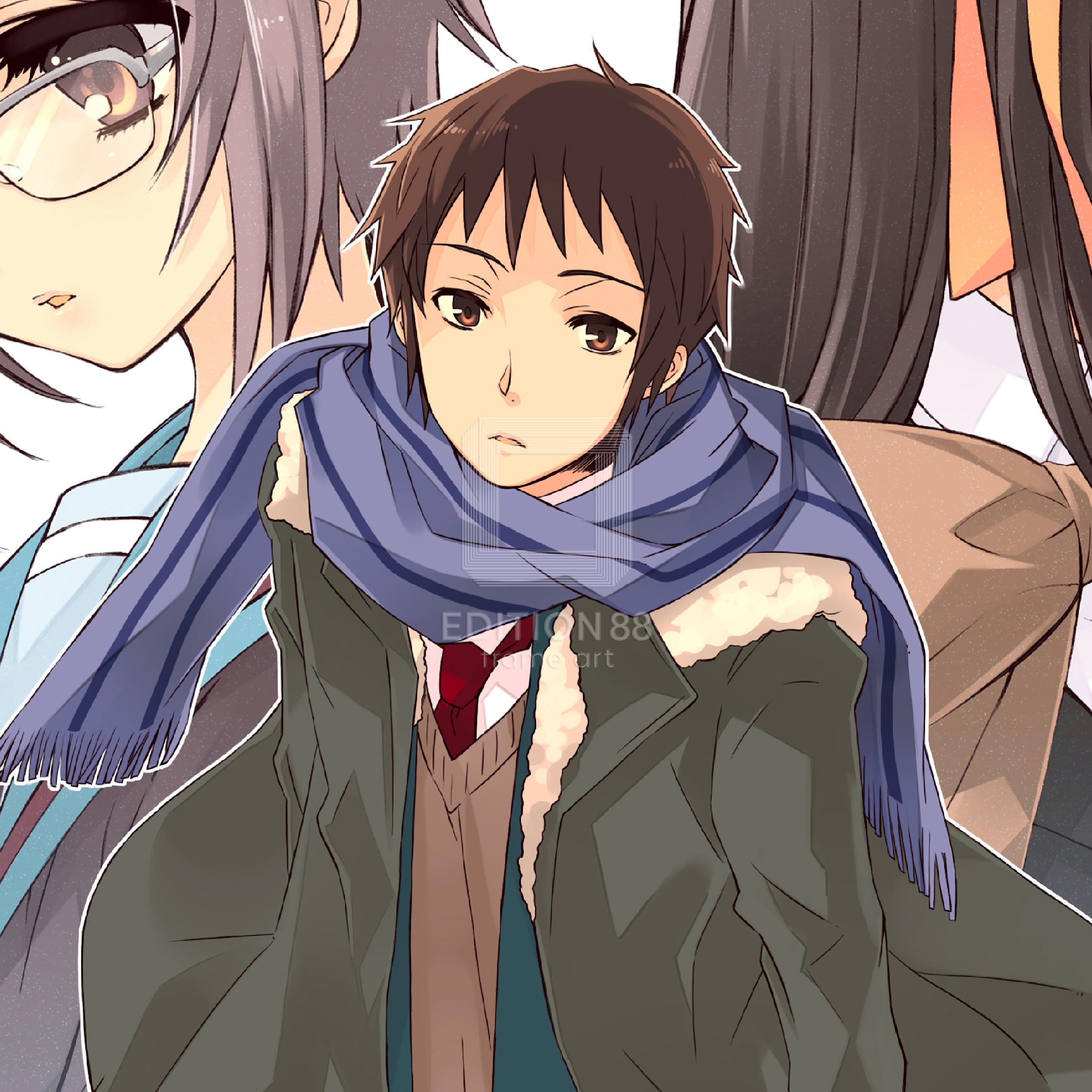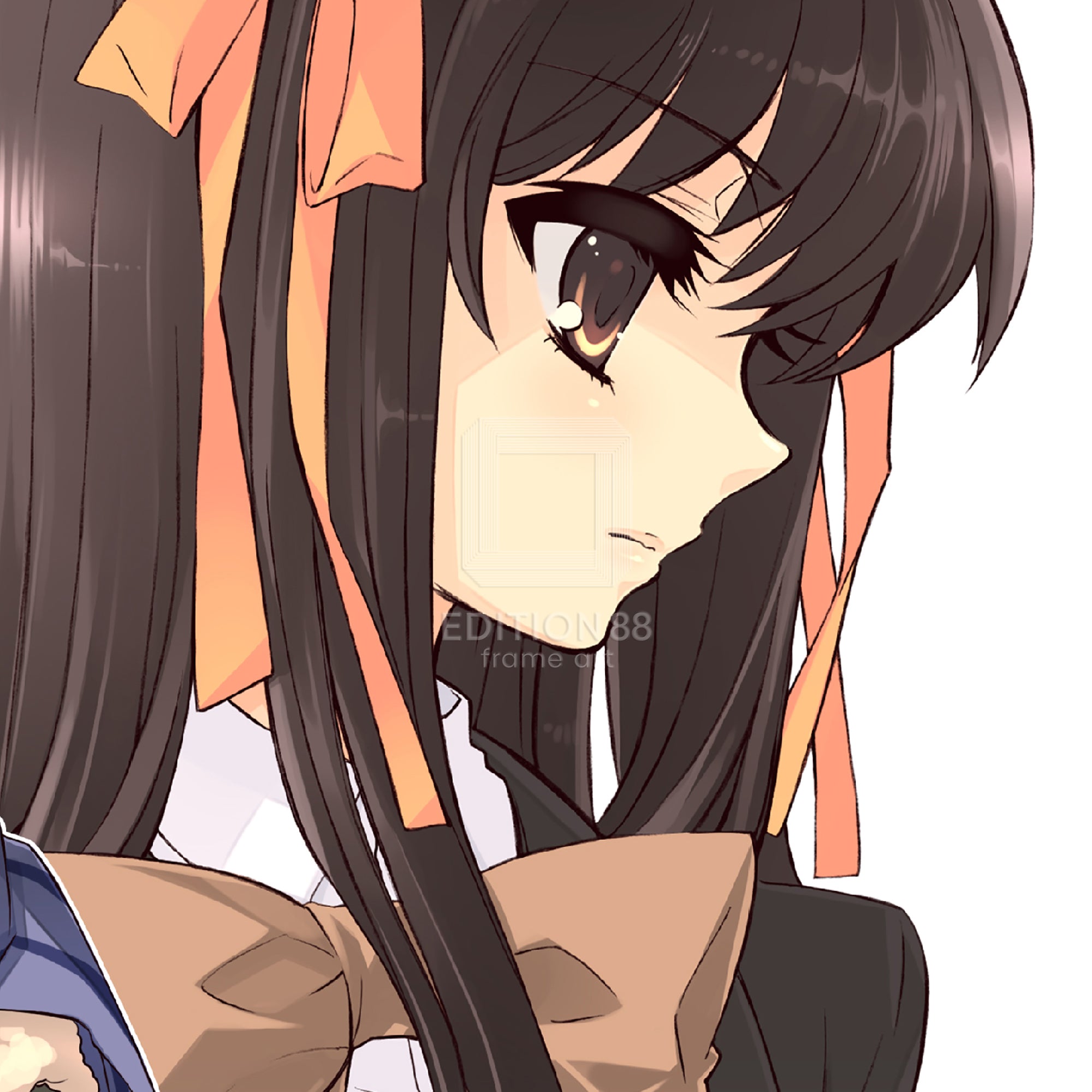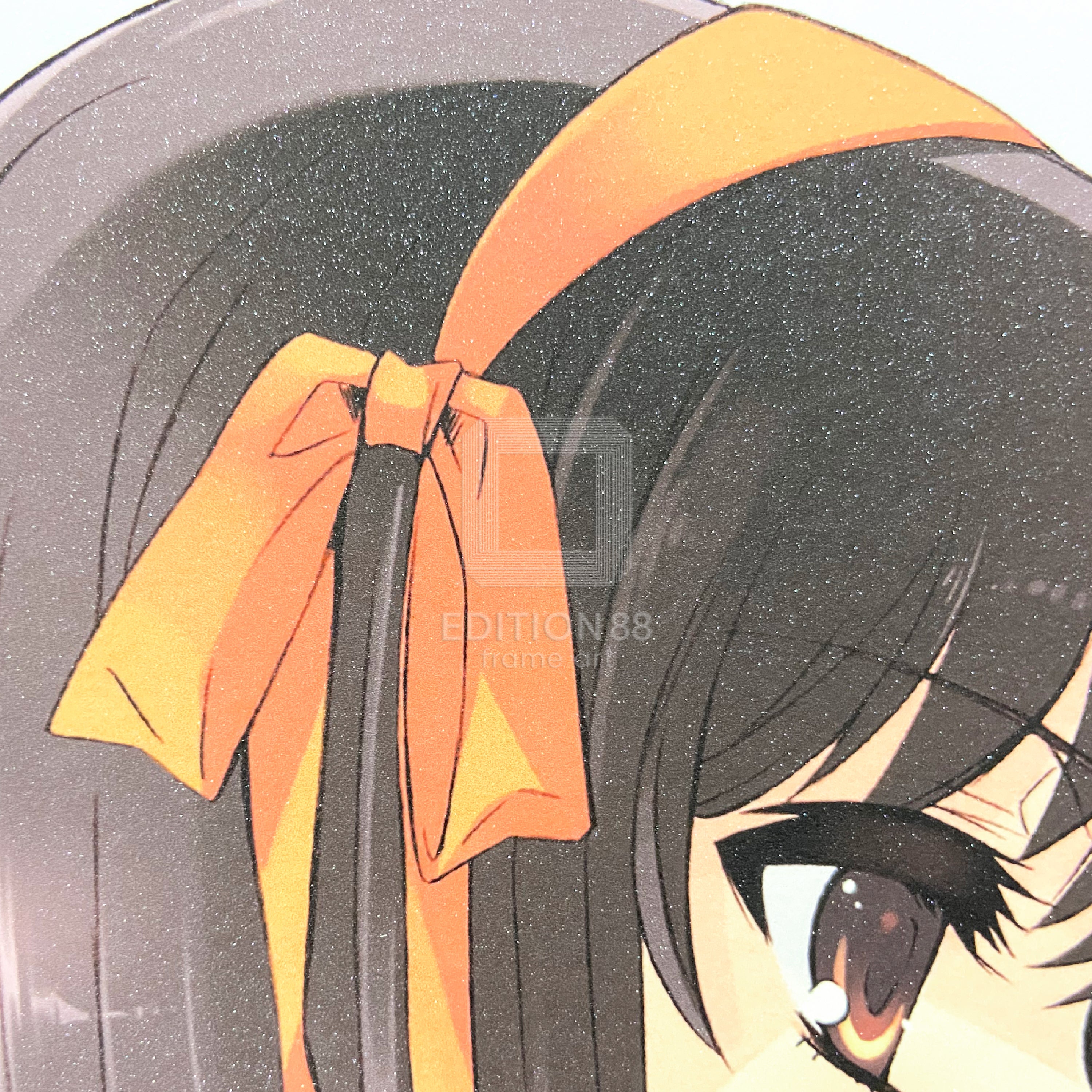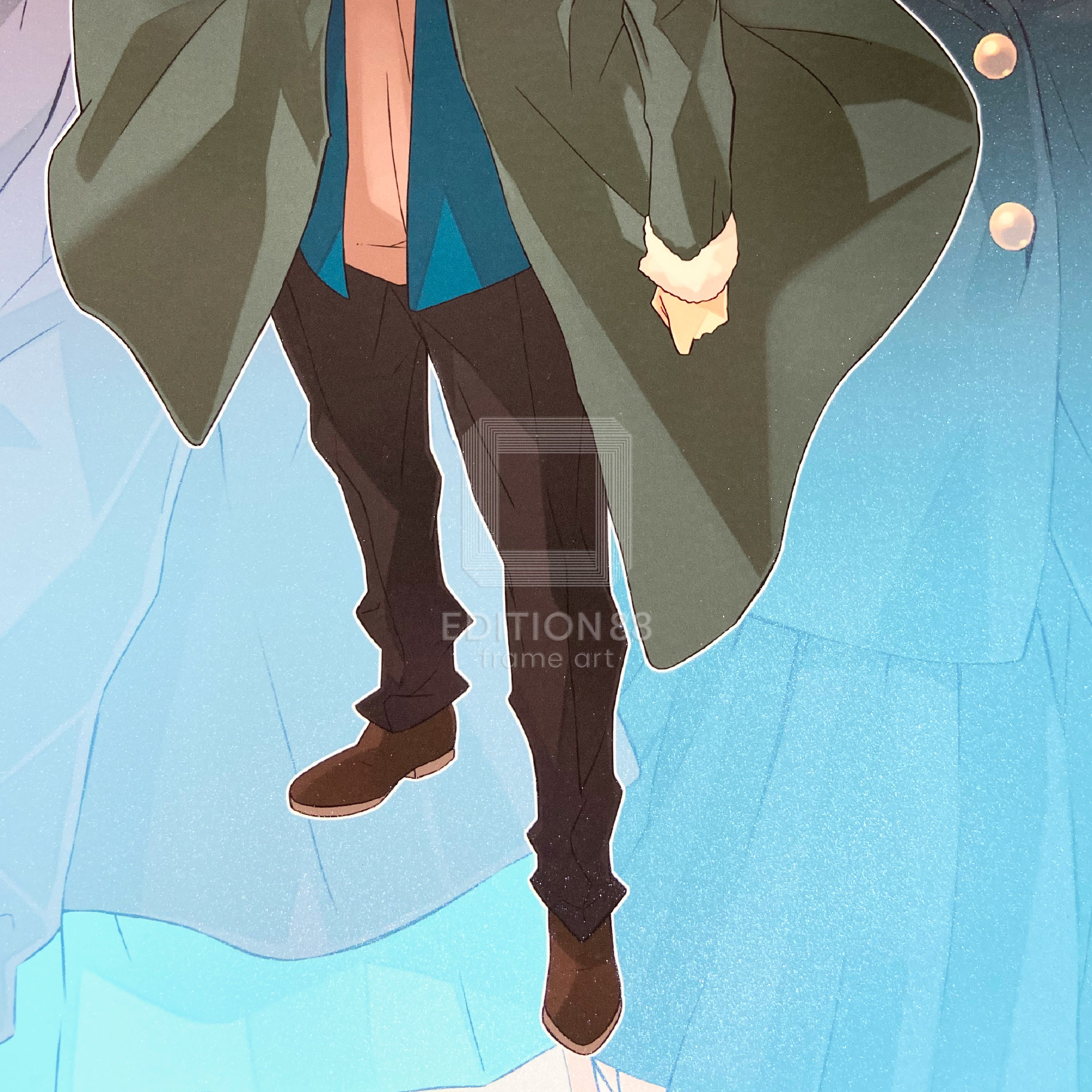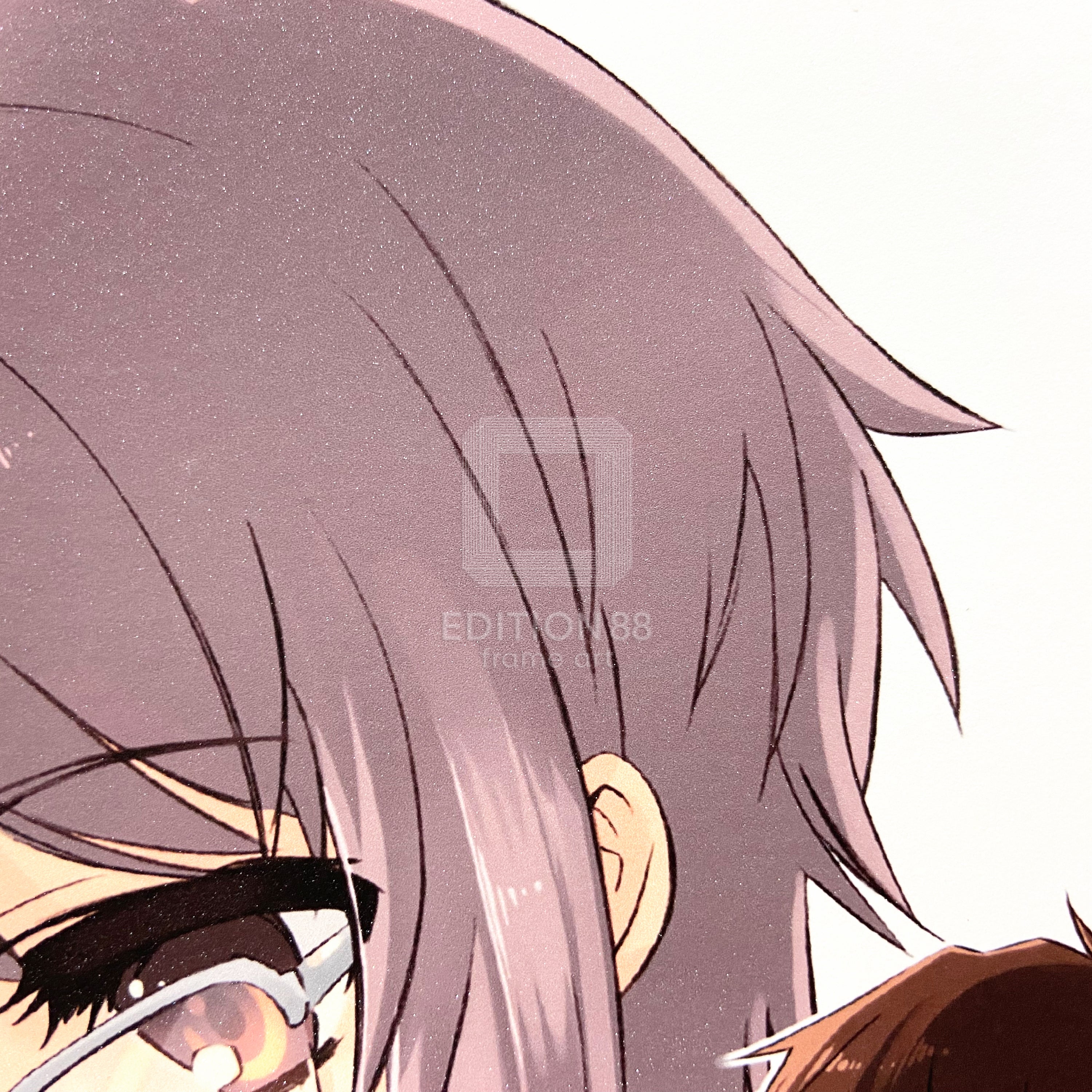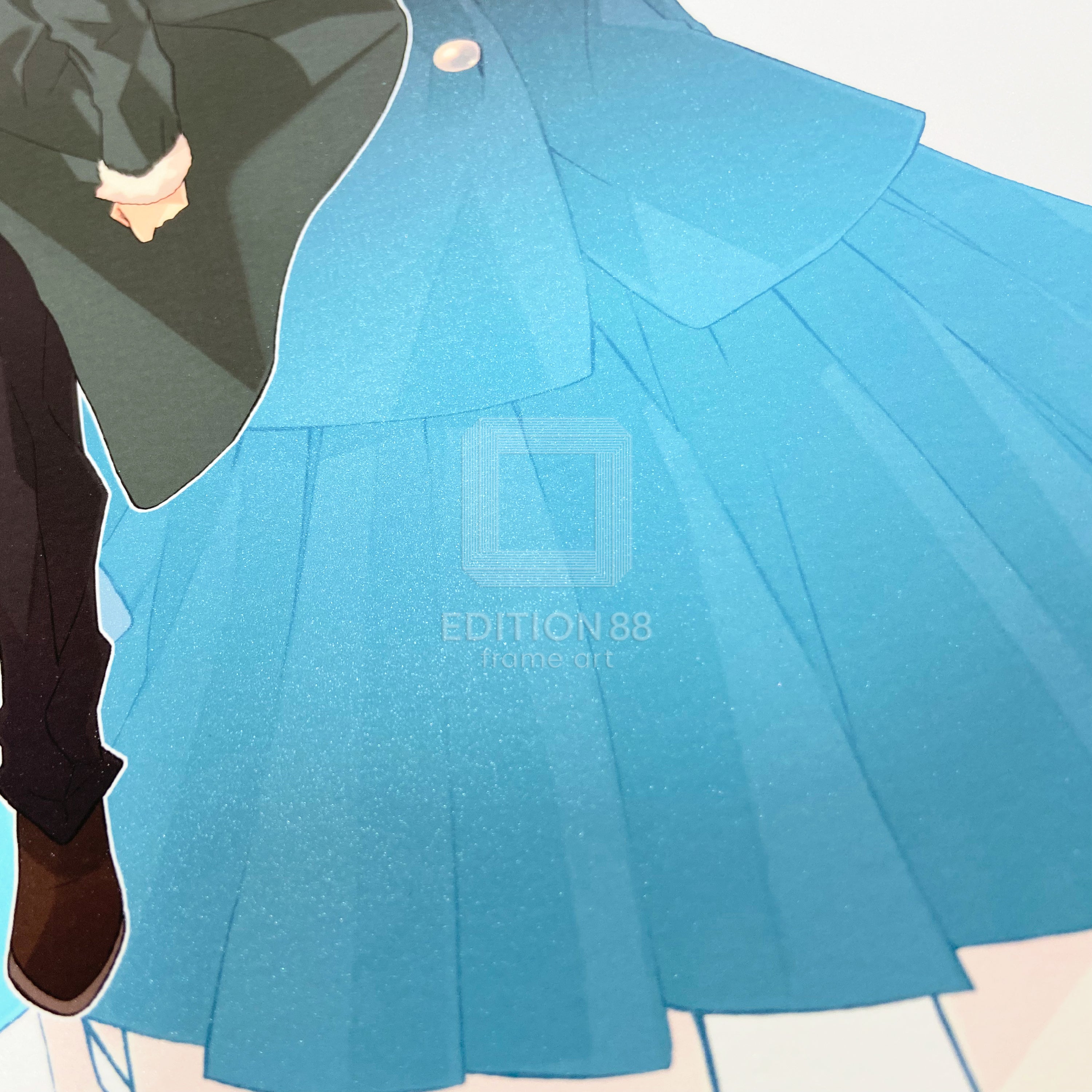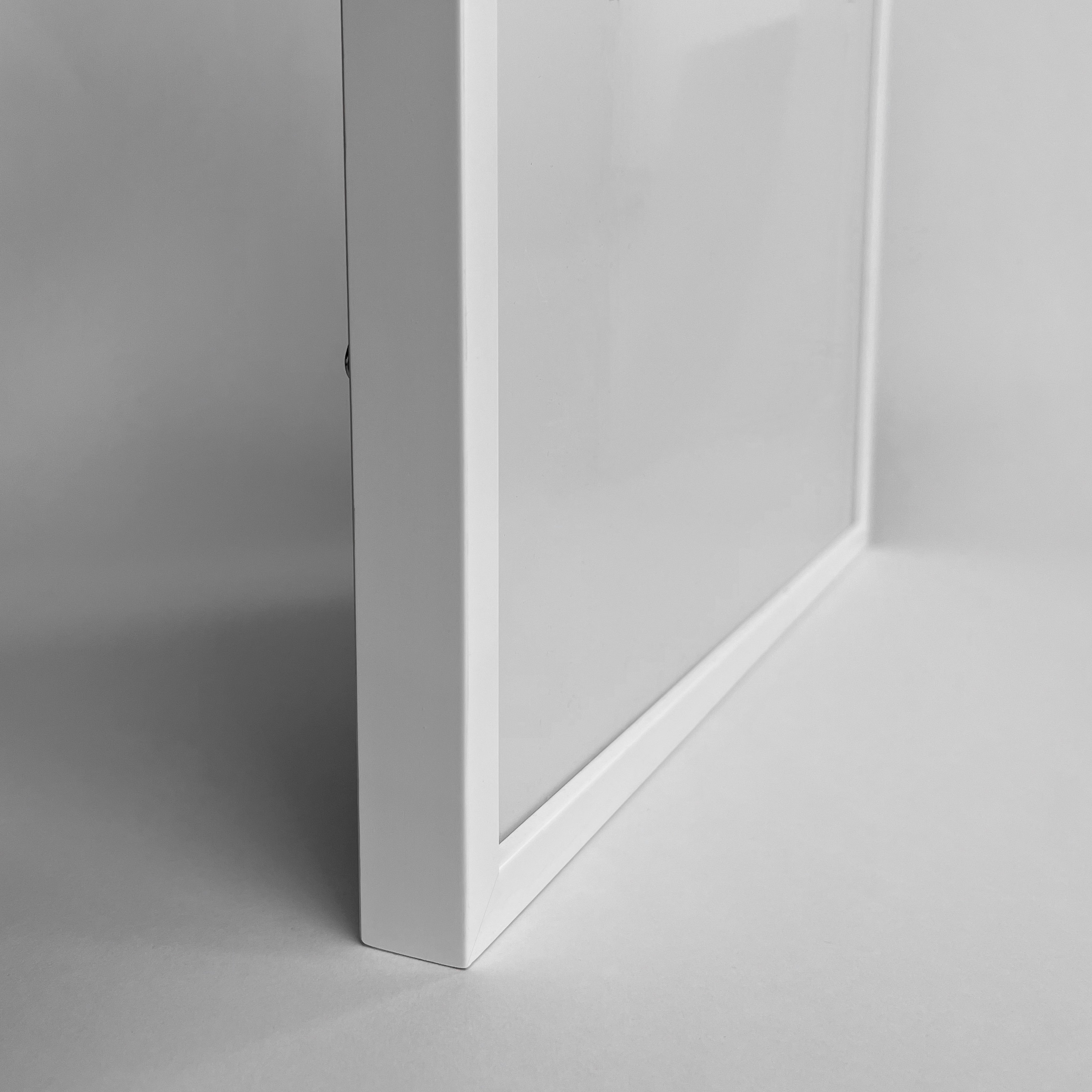 The Disappearance of Haruhi Suzumiya, 88Graph #7 / Noizi Ito
---
This 88Graph is from an illustration drawn for the Blu-ray jacket of "The Disappearance of Haruhi Suzumiya the Movie."

On the Original, from Noizi Ito
This is an illustration I drew for the DVD package of the movie "The Disappearance of Haruhi Suzumiya".
For me, this illustration is filled with many thoughts and feelings. I am very proud to have been involved in this film work.

On the Art Print, from EDITION88
"The Disappearance of Haruhi Suzumiya" features Nagato wearing glasses, and Haruhi, who continues to grow her hair, dressed in a blazer. It's a poignant piece where the gazes of the three characters never meet.

For this 88Graph, we created a mask in the shape of Kyon's silhouette and hand-sprayed sparkling pearlescent paint on Nagato, Haruhi, and the entire background.
We dared not to spray pearlescent paint on Kyon to accentuate her presence, and created a layered structure that gives the impression that Nagato and Haruhi are paler and farther away.
This is a work of art that emphasizes the affinity between the illustration and the story.

The frame is a simple pearl-white frame with a laminated mat made of two colors of cardboard, blue and cream. The double line, matching the blue of the sailor uniform, makes the illustration stand out and gives the work a sense of depth.

●Hand-signed by Noizi Ito
●Limited edition of 200 (International edition 100 , Regular edition 100 )
●Medium: 88Graph (Giclée on fine art paper, Pearlescent paint)
●White Frame (Wood, UV Resistant Acrylic) / Unframed
●Size
 ▸Image size 382×284mm / 14.33x 10.24inch
 ▸Sheet size 452×321mm / 16.10 x 11.42inch
 ▸Frame size 525 x 410 x 20mm / 20.67 x 16.14 x 0.79inch
●Officially licensed by Straight Edge Inc./KADOKAWA CORPORATION
●Manufactured by EDITION88
●Certificate of Authenticity
© Nagaru Tanigawa, Noizi Ito/KADOKAWA
Please choose 'Frame' or 'Unframed'.
SHIPPING DATE: Within 2 months after receiving your order
Important Notice
●Since this product is made to order, please allow a certain amount of time for shipping. 
●Our products are shipped from Japan and may be subject to customs duties, import taxes, customs fees, etc. in the destination country. EDITION88 DOES NOT collect those fees directly and therefore those are not included in your total amount due. Please read our policies before placing your order.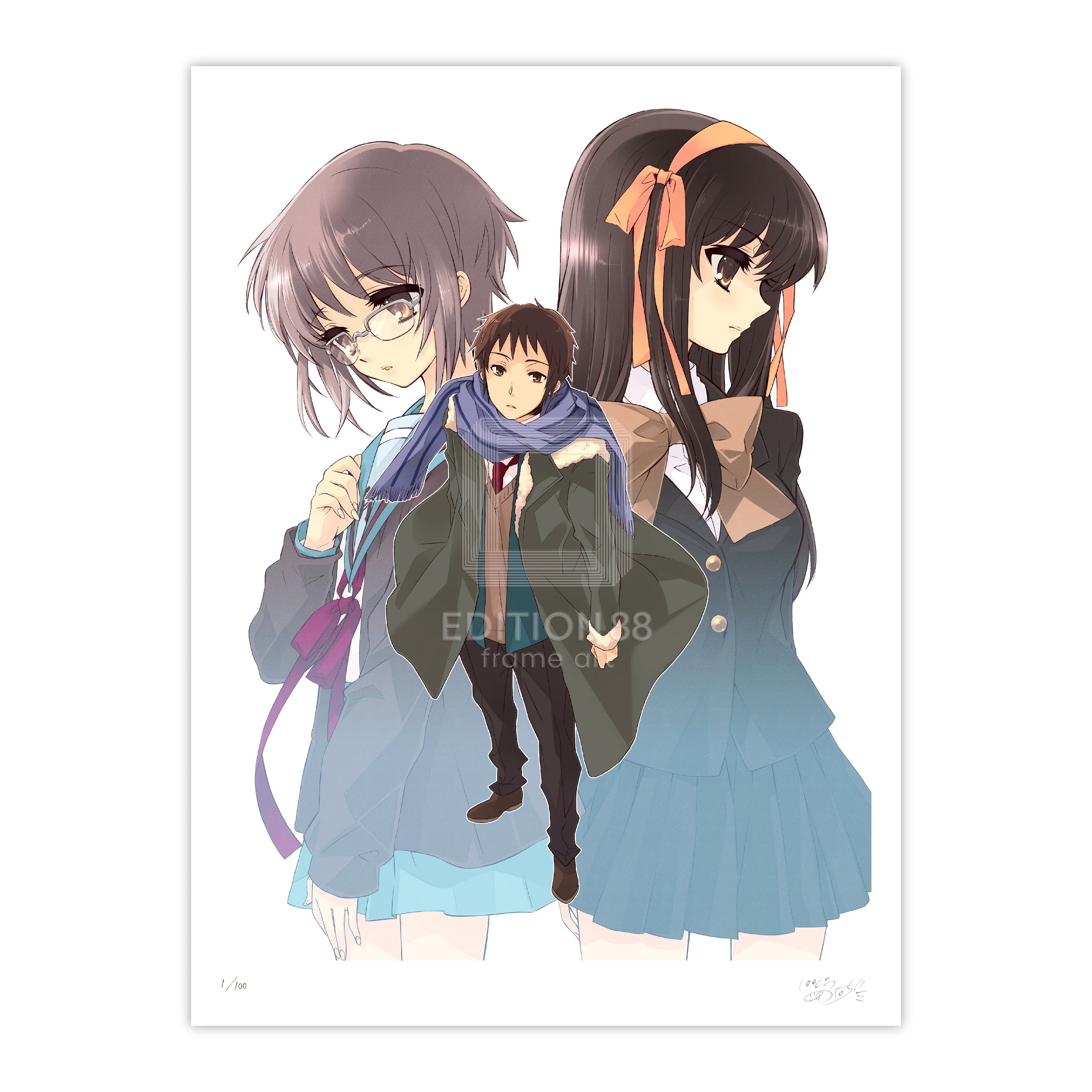 The Disappearance of Haruhi Suzumiya, 88Graph #7 / Noizi Ito
Sale price

$253.00 USD
Regular price
Choose options