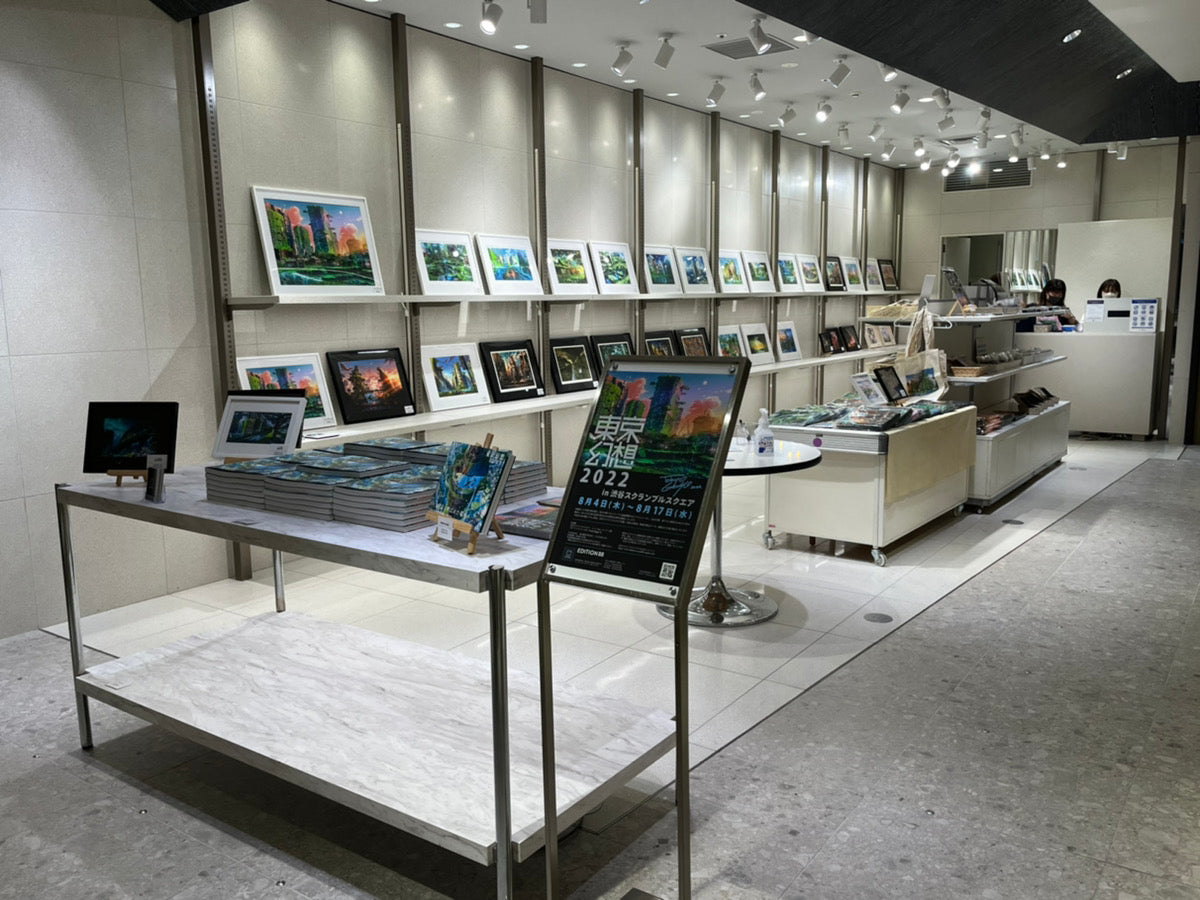 Tokyo Genso 2022 Exhibit at Shibuya Scramble Square!
EVENT REPORT
We held an event in Shibuya featuring illustrator Tokyo Genso, who is known for his drawings of the ruined city of Tokyo.
At this exhibition, his latest newly-drawn illustrations set in the area around Shibuya Scramble Square, as well as illustrations collaborating with Mechagodzilla from the movie "Godzilla: Tokyo S.O.S." were exhibited and for sales.

Period: August 4 to 17, 2022
Venue: Shibuya Scramble Square
New art work: Shibuya Scramble Square Genso
Shibuya Scramble Crossing is located at the bottom of a valley where three hills intersect: Miyamasuzaka, Kinouzaka, and Dogenzaka. This famous intersection, which should be considered a Tokyo landmark, is said to have more than 3,000 people passing through it at a single green light at the most.
Tokyo Genso depicts this crowded Shibuya as an abandoned, green, and uninhabited town. He has laid bare the valley floor of Shibuya, which had been covered by asphalt and invisible, and depicts water cascading into it as a beautiful waterfall.
What is depicted there is the town of Shibuya that no one has ever seen.
New art work: KIRYU Mechagodzilla / Shinagawa Genso
The Mechagodzilla has been revived by Tokyo Genso, with a new plot written by film director Masaaki Tezuka.
The abandoned Shinagawa Yatsuyama Bridge is transformed into a paradise at sunset, with a mossy Mechagodzilla standing there, Godzilla gazing at it, and Mothra soaring in the sky.
This is a memorable collaboration between Tokyo Genso and the "Godzilla series," the big hero that has led the Japanese movie industry since the Showa period.
Cherry blossoms are often depicted in his works. The contrast between the beautiful cherry blossoms and the devastated city of Tokyo may remind us of the endless passage of time.
Kaminarimon Genso with Cherry Blossoms
 Please check Tokyo Genso art print collection!